Northwest Adventures
Northwest Adventures/Index | Northwest Restaurant Reviews
Safe Travel Tips | Travel Links | Travel Videos | Vacation Adventures
Wicked Tango Tapas and The 39 Steps in Seattle
by Don and Peg Doman
We've mentioned before that we never plan on seeing a theatrical production twice, but that was not the case for this adventure to Seattle and Wicked.
Since seeing Wicked several years ago, Peg and I have longed to see the traveling production again. We've gone as far and checking reservations in Buffalo, Kansas City, and Los Angeles. When the opportunity came to see the production in Seattle we jumped on the possibilities.
I spent one whole afternoon searching for a performance in late September to kick off Peg's birthday celebration, which runs for one or two months depending upon our pocketbook and good fortune. I initially came up with a Sunday matinee for seats in the "T" row on the main floor. With those secured I began laying out the rest of short adventure in Seattle. As time grew shorter, friends asked to join us on Sunday and Peg and I booked additional seats for the following Tuesday as well. Our friend Bill Kaufmann complained that only two seats were left for the Sunday matinee and they were front row with a hefty price tag. He and his wife Sharon ordered two of the last remaining seats for the evening performance, while I made a quick trip to Ticketmaster and bought the two seats in the front row. This allowed me to sell our two tickets to another couple who were excited to see the play.
Our trip started out not with the play, but rather Seattle Pacific University and Beth's Cafe in Seattle.
Our granddaughter Vanessa is starting her second year at Seattle Pacific and even though she had to leave her precious Rugrat at home in Tacoma, she is loving her time on campus and in school. On Friday she had helped with orientation for new students and was poised to start her own classes on Monday. We picked her up Sunday morning for brunch. She had heard of Beth's Cafe, but never been there. What she had heard about was their twelve egg omelet and all-you-can-eat hashbrowns. Located on the northend of Green Lake, the restaurant wasn't too far from SPU.
We lucked out and found street parking about hundred feet away from the cafe. We also were lucky enough to arrive between crowds. We were first seated in a booth that even Vanessa couldn't take a big breath in, but were moved quickly to a more roomy accomodation. As we ordered our food and waited for delivery, we looked at self-colored crayon artwork, which adorns the walls at Beth's.
As I feared, my biscuits were pedestrian and the hashbrowns, although ordered "burnt, burnt, burnt" were only golden brown (on top). The bacon was excellent and the over-easy eggs were perfect, however. Peg's fruit plate was large enough to share with Vanessa and Vanessa's ham and egg bagel provided breakfast for two days. After breakfast, we dropped off Vanessa at her apartment and made arrangements to pick her up for lunch on Monday
Peg and I drove to the 11th Avenue Inn a little sad. I think we had not explained clearly that we were not taking Vanessa to see Wicked. She seemed a little down in the mouth when we drove away for 11th Avenue.
We have stayed at this lovely B & B before and will stay again. Our room (The Opal Room) was on the second floor and contained a queen and a twin bed as well as our own bathroom. The large dining room on the first floor is perfect for meeting and sharing with other guests. There are bowls of chocolate candies and nuts by the entrance and in the parlor, so you never go hungry. We had stayed in the Garnet Room on our first visit and found it lovely with skylights above the bed, but we didn't like walking up the stairs to the third floor.
I checked us in while Peg called for a cab. Being just a block off Broadway on Capitol Hill the taxi arrived quickly and wisked us down the hill to the Paramount. The charge was only $8, including tip.
Several years ago we were lucky enough to get front row seats for a spotlight performance at the Fifth Avenue's pre-production show for Pippin. Stephen Schwartz was interviewed on stage about twenty feet from us. Although, the focus was Pippin, Schwartz played several numbers on the piano including The Wizard and I from Wicked. I fell in love with the song at that time. Once I saw in Wicked it became an classic that at times constantly runs throught my brain. The song is so hopeful and yet listening to it almost always brings a tear to the eye, because you know that hope will be trashed. Donna Vivino as Elphaba is wonderful and each of her songs are fantastic.
For weeks Peg and I had prepared ourselves by listening to the Wicked CD in my Durango. Peg kept asking for the CD so she could listen in her Buick, but somehow I forgot to give it to her. We were not disappointed with the music and the singing at The Paramount. Up front, even though the audio systems aim for the middle of the house, we were thrilled by each song. Front row also delivered a staggering view of the wonderful costumes by Susan Hilferty. Peg marveled at the hats, the dresses, the coats, and the shoes. There are 180 unique costume designs. Each production also requires 240 pairs of handmade shoes.
At the intermission I met our friends Jan Runbeck and Mike Mowat by the orchestra pit. Jan was overcome by the music and the staging. She asked, "Is there a happy ending?" Laughing, I told her. "You know the story . . . the witch dies in the end."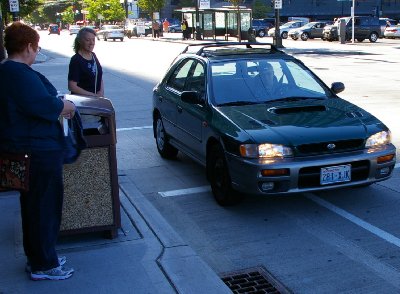 Jan, Peg and I waited in the limo line until Mike picked us up in their Suburu. We chatted about the performance as we drove two blocks and then parked across the street from the Tango Restaurant and Lounge.
Our friends Bill and Sharon Kaufman were meeting us between the matinee and evening performances. They had tickets for the later and chose the restaurant, I think because it was close to the Paramount AND that it served Tapas. Bill and Sharon are traveling to Spain and will be dining on Tapas while there. Tapas are appetizers usually consumed in the early evening to stave off hunger while waiting for a late dinner. Peg and I traveled to Spain two years ago with Jan and Mike and our friends Donn and Debbie Irwin. All of us enjoy Tapas, and none of us could stay awake for a late dinner. What's great about Tapas also is the variety. You can sample and enjoy lots of food without overeating, which is always a good thing. I envy Bill and Sharon. I would love to visit Spain, again.
While Jan dried herself off from a beer shower (misstep from the waiter), Bill and Sharon arrived. The corn meal based bread was served with a nice spicey (not too much spice) butter. I could have eaten many more slices, but I held back.
We all ordered a nice selection of Tapas and main dishes. I can still taste the Cheap Dates, medjool dates stuffed with cheese and wrapped in eggplant and bacon. They were wonderful. The mussels were excellent, also. Tender and flavorful. Actually, they were probably one of the best servings of mussels I've ever had. Peg's lamb chops were cooked perfectly pink and tender. She also enjoyed the potatoes and the mint sauce. Of course everyone shared and offered bites across the table. Beer and Sangria washed everything down. On my only trip to Spain, it was only after returning that I realized that I had not had one sip of Sangria. It's quite refreshing and would have been nice to drink in the warm afternoons watching the bathers on the beach. We skipped dessert, although the selections looked very appetizing.
After dinner, Bill and Sharon moved on to Wicked, while Jan and Mike drove us back to the B&B. Jan put the arm on me to attend a regional board meeting in Bellevue for our Rotacare Tacoma Chronic Care Clinic. We had just found out that somehow our Tuesday night Wicked tickets had been cancelled, so as local board chair I agreed to attend with clinic director, Jan. Since the excuse for this whole excursion was to celebrate Peg's birthday, I decided to spend the evening with her. Sorry, Jan!
Arriving back at 11th Avenue Inn, I thought I'd check my email before going to bed and met Scot More using the internet connection. From Houston, Scot was in Seattle for a conference for the homeless. Scot is the Director of Community Relations for the Coalition for the Homeless of Houston/Harris County. Since I'm a member of Pierce County Homeless Connect, we had an instant connection. He was pushing the Connect movement and was happy to meet someone who was working on the project. I got some good ideas from him, and he got information from me.
Instead of the normal two computers connected to the internet in a sitting room off the dining room, one was out of order. Scot and I usually played tag as we checked emails and took care of business. Note in the photo Scot is at the computer with his Blackberry in his left hand as he operated the mouse with his right.
We got a nice night's sleep. Breakfast on Monday offered baked bacon, which was very tasty. Peg came down for breakfast about an hour after me, which is earlier than she would need to rise on vacation generally. However, I had a meeting with Rotarians for Hearing Regeneration and Dr. Edwin Rubel, who years ago discovered that birds regenerate haircells of the inner ear to restore their hearing. Gene Pankey and Dave Sclare of Clover Park Rotary and Lakewood Rotary respectively, joined Dr. Rubel, myself and Dr. Jenny Stone for a discussion on our efforts to educate children about the dangers of loud noises. Dr. Rubel and Dr. Stone are searching for clues involving hearing regeneration at the Virginia Merrill Bloedel Hearing Research Center at the University of Washington.
I dropped off Peg at the University Book store on the way to my meeting and then picked her up afterwards. She didn't get all of her shopping done, so we would return to the Book Store on Wednesday before returning to Tacoma. Once I picked up Peg we headed back towards Seattle Pacific University. Viking Bank, just a block from SPU, forclosed on an equipment loan of another video production company. They had a Behringer mixer I was interested in as well as a professional 3CCD Panasonic camcorder. I paid cash for both and we drove across the street and picked up Vanessa for lunch.
Once Vanessa joined us we waited for the bridge to lower so we could cross the Ballard Locks to Fremont. The nearby Fremont Troll was a winner in the annual Washington Aggregage and Concrete Association Excellence in Concrete Awards several years ago. I wonder if that makes it a "Troll Bridge?" The bridge is fairly busy and we had to wait for the bridge each way. Vanessa's restaurant of choice on Monday in Fremont was Jai Thai. The food was good, but a trip to the rest room where a non-working urinal greeted me left me deciding never to return.



After leaving the Thai restaurant we searched for Archie McPhee. We found Archie near the Wallingford district close to where it used to be. For a few years the novelty store was in Ballard.
Inside the hodge-podge store Vanessa and I found fun items we didn't know we needed. She got a black cat Halloween mask and I bought a bacon placemat for my sister, Marsha and manikin head to display a helmet in my office. There were definitely more items that I could have purchased. The rubber suckling pig was calling to me and I thought of several uses for the jumbo inner ear model that was on display. Luckily we got out before more items made it to the cashier's counter. We showed Peg our toys when we got back in the car and then drove to the bridge and waited a few minutes for it to be lowered before driving Vanessa back to her apartment.
Back at the B&B it was time to play with my new camcorder and take a nap, while Peg worked on some postcard invitations to her P.E.O. sorority sisters and a lovely birthday card for a mutual friend.
The room was very comfortable with an armoire and a small TV with a built-in DVD player and cable. There is art on the walls and even the bathroom has a nice visual: Broken Tea Cups/Shattered Drams.
Peg stirred me out of my stupor and we drove the one block to Broadway and looked for Dilettante Chocolates. Peg ordered a bowl of incredible tomato soup, while I ordered a bowl of ice cream (four scoops and special sauce) to share.
We were amazed how the neighborhood had changed since the last time we had visited (just a few months before). The mocha cafe had moved a block north from its original home. Actually, a whole block of shops disappeared and is now a parking lot for transit. Also, a grocery store directly across the street from the new cafe is undergoing a remodeling and I bet groceries are a thing of the past. The area is going high class and this means it will soon lose all the flavor of street people as well as the gays and lesbians who have frequented Capitol Hill for years and made it what it is.
Tuesday morning our plans changed a couple of times. Our friend Al Burrage from West Seattle was leaving for Eastern Washington. We always like to connect with Al and visit some of our favorite haunts, but I had been so busy that even time spent for a simple email slipped by. Peg and I went to Half-Price Books, where she
touched almost every interesting book in the place, but only bought a few. Half-Price is only five or six blocks from the B&B. With books in bag, we drove to Alki Beach in West Seattle and went to our second favorite pizza joint in the world: Pegasus. It was strange visiting there without Al, but the shrimp salad and gorgeous pizza made up for his loss. While we lunched, Peg was on hold to Seattle Repertory Theatre to secure tickets for Tuesday night. Although Peg had tickets for Wednesday to review The 39 Steps, I had a board meeting, so could not attend. In the end she took her sister, Pat and Pat's daughter Sandy. You should read her review for The 39 Steps.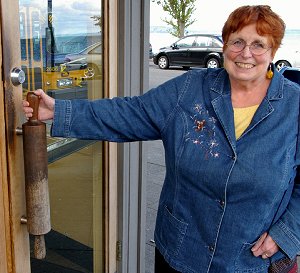 We boxed up half our pizza and next visited Alki Bakery. The front door have an interesting feature with the handles resembling rolling pins. Cute. I enjoyed the pumpkin/cream cheese muffin, but our Danish was a little pedestrian.
We sat in the Durango and ate our baked goods, but we could have sat at a table and colored in Scoobie Doo and Shaggy. The bakery/coffee shop provides do-it-yourself entertainment.
The waitress/cashier was nice, but I wouldn't make a special trip to the Alki Bakery. If you're at Alki and enjoying the view, that's a different story. Puget Sound is just across the street with a sweeping view of Magnolia, Queen Anne, downtown Seattle, ferries and sea planes. Also, a miniature Statue of Liberty welcomes passing boaters only yards away from the rolling pin-handled front door.

After lunch and snacks we drove to the Frye Art Museum, generally a must see, but not this time. We took a wrong turn off the freeway and drove through some strange neighborhoods to get there only to find the museum setting up their next exhibit (The Old, Weird America: Folk Themes in Contemporary Art), which opened at the end of the week for a three-month showing.
Tuesday evening we hustled off to Seattle Rep and The 39 Steps. I was expecting a stage version of the classic Alfred Hitchcock film from the late thirties. This was not your father's Hitchcock. The 39 Steps is campy and filled with slapstick and very interesting, highly inventive pieces of business, and had a variety of funny bits. My favorite scene had the main character, Richard Hannay escaping from a pursuit by a bobby (British policeman) atop a running train. For sure there was no running train in the theater, but there was a great illusion of a running train with steam, whistling wind sounds and make-believe wind provided by the actors. I mentioned that scene in a comment on Facebook and my cousin who teaches at Wayne State wrote she had seen the play on Broadway and that scene was her favorite, too. Ah, yes . . . great minds. The next evening Peg reviewed The 39 Steps at Seattle Rep and again had a great time watching the play and talking about it with her sister and neice.
After the play Peg and I feasted on cold pizza and memories.
Wednesday morning saw Peg and I back at the University Book Store, where I bought some stock images and a DVD on Hannibal. Peg bought presents and a few books for her and then we hit the freeway for home. Well, not quite. Since it was almost lunch time Peg called ahead to Pick-Quick in Fife and placed an order for burgers and fries. Pick-Quick has such a nice outside dining area that some people think it's a park and bring their own food . . . sorry, not acceptable.
This fast-food burger place serves what we believe to be the best burgers in the world and my favorite French fries. If you wait to order at the window, you will stand in line for some time. Therefore, we always call ahead. Peg called directory assistance and then went to save the phone number to her cell and found Pick-Quick there already. This illustrates that we don't visit Fife and Pick-Quick that often. We would love to eat those burgers and fries everyday . . . but we show restraint . . . did I mention their milk shakes and malts?