This is the personal account of an adventure to Victoria, B.C., the Clarion Hotel Grand Pacific, the Royal British Columbia Museum, the Royal London Wax Museum, and Mocambopo. This article is part of a series of Pacific Northwest Adventures for the Tacoma Weekly On-Line.
Our adventure to Victoria, B.C. began at 5:15 a.m. as we left to catch the ferry in Port Angeles. Victoria, B.C. is a very friendly city. Tourists are welcomed warmly.
We left Tacoma with our friends, Randy and Andi Melquist. Randy and I chatted in the front seat as he drove. Andi and Peggy sat in the back, dozing and interjecting comments in the early morning conversation.
Our first stop on our journey was the 101 Diner in Sequim. The 101 resembles a small roadside diner from the fifties. There is even a gas pump by the front door. Inside there are many reminders from that decade: a 1955 Ford Thunderbird-styled jukebox, posters and celebrities portrayed in cardboard cut-outs and black & white photographs. There are three framed prints of self-portraits of Red Skelton as Freddy the Freeloader on the wall by the counter. Although they're each protected by their own locked glass case, the waitress told us they were copies.
The French toast, freshly dusted with powdered sugar, sausage and pancakes are recommended. The biscuits and gravy are not. The gravy had a weird lemony taste that just turned me off. Everyone else enjoyed their breakfast.
We rolled into Port Angeles and left Randy's car in a parking lot for our three-day trip. We bought our tickets, waited a few minutes to board the ferry, Coho. We found seats and a table in the lounge. Soon we were joined by Marty Hilton, president of the Fife-Milton Rotary Club. Our adventure coincided with a Rotary meeting in Victoria. Randy and I are members of the Rotary Club of Tacoma #8. We balanced Rotary meetings with Victoria fun.
Accompanying Marty was her friend C.J. They had driven to Port Angeles the previous evening and stayed at a hotel overnight to eliminate an early morning drive. Spending the evening in Port Angeles means setting the alarm for a seven o'clock wake-up as opposed to a four a.m., blurry-eyed roll out. Personally, I don't like leaving early in the morning, but I need all the time the night before to get my affairs in order so I can get out of town.
The ferry ride takes an hour and a half to cross the Straits of Juan de Fuca from Washington to Vancouver Island. We chatted happily and the boat ride seemed to only take a few minutes. We landed in Victoria and walked less than two hundred yards to our hotel, the Clarion Hotel Grand Pacific. During spring and summer you can almost always hear bagpipes as you arrive. There is usually a piper standing by the main intersection by the Parliament building. We didn't hear him when we arrived, but later the sounds of the pipes found their way to our hotel room. It's strange how the sounds of bagpipes can be both exciting and soothing at the same time.
We checked in and went to our rooms to unpack and get settled. Peggy and I stepped off the elevator and were greeted by one our favorite pieces of furniture. It's a beautiful inlaid, antique buffet. The buffet, which would be suitable for a museum, features a Chinese scene on its top piece.
The whole piece is exquisite and adds a nice touch of luxury. It's completely useless in the hallway, but it sets the tone for the hotel stay. We had our favorite room, #830, located on the top floor. It's a large suite that commands wonderful views from each of its three balconies.
From the balconies off the bedroom and the dining area you can see all the way back to Washington as well as part of the Victoria inner Harbor. From the balcony off the living room you can see the ferry terminals, the Royal London Wax Museum, the Royal British Columbia Museum, downtown Victoria, and all of the activies in the inner harbor. Saturday morning I looked out and watched four or five racing shells practicing.
After he settled into his room Randy joined Peg and me to plan the rest of our day. As he walked through our suite he marveled at the fireplace, the dining room table, the long mirrored bar and the size of the accommodations. He said, "This place is huge." As he walked back down the hall way he peeked into the bathroom and noted that it, at least, was the same size as his. I said, "Oh, no. That's the small one."
I led him into the bedroom which contains a king-size bed, easy chair with ottoman, lounging chair and a built-in closet that encompassed an entire wall. Marty and C.J. also stopped by. Marty had been in the suite a year before when Peggy and I had last stayed at the Grand Pacific. Marty wanted C.J. to see the room.
Last April Peggy and I had hosted a party for about fifty people in the suite complete with live entertainment. It had not been crowded. Marty and C.J. joined Peggy and Randy and me in the bedroom which Marty hadn't seen before. She loved the glass block window that separated the Jacuzzi bath from the bedroom. The bathroom contains two sinks and a large mirror.
Randy and I took off for a short walk. We were looking for a bank. As we got away from the tourist section by the harbor we noted that the amounts of graffiti increased. In Hong Kong the police would cane individuals who defaced property like that. In Victoria I'm sure they get a rather stern talking to. We ended up at the James Bay Inn about three blocks from the hotel and fifty feet from the bank we were seeking. We peeked inside and thought it might be a good place for lunch. It had English memorabilia everywhere and offered English cooking. Andi, Randy's wife, is from Derbyshire in England. We thought she'd feel right at home in the restaurant. Randy phoned the hotel and gave directions to Andi so that she and Peggy could join us.
A friendly wave and a smiling face from a corner table attracted my attention. Carol Butler was sitting by a window and enjoying her breakfast. Carol was the president of the Puyallup Rotary Club last year, when I was president of Tacoma Rotary #8. We chatted for a while. Randy sat at a nearby table and all three of us talked until Andi and Peggy arrived for lunch. After introductions around, Carol left and our small lunch party looked over selection choices.
Our waitress was Eleanor. When I asked for a photograph she took off her comfortable, gray cardigan sweater so we could see the James Bay logo on her shirt. With the sweater, her skirt, white socks and her sensible shoes, she looked like. . . (Jim Hawkins' mom?)
Peg ordered chicken vegetable soup. Andi and Randy each ordered steak and kidney pie. I ordered cheese crumpets and a blueberry scone with jam and whipped cream. Andi looked at the antiques and knickknacks on the walls, "Ewew, we used to 'ave one of those." We heard that a few times.
When the lunch orders came our small table was completely filled with food and drinks. There were an extremely large sugar bowl, teapot with tea cozy, coffee cups, tea cups, silverware, plates and food. We shared around. My scone was not at all like a Puyallup (Western Washington) Fair scone. This one was about five or six times the size of the September snack item and incredibly fluffy. I asked for extra butter and added strawberry jam and whipped cream. It was good, but not as delectable as I had hoped. I gave half of it to Andi, who loaded on some whipped cream and enjoyed it until Randy took the last two bites. Randy may have been a little greedy there. He had already finished off his own steak and kidney pie and most of Andi's. Actually, he only took one bite, but it was large enough for two.
After lunch we walked through the grounds of the Parliament Building on our way to the Royal British Columbia Museum.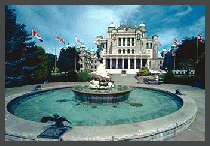 In walkway up to Parliament is a beautiful circular fountain. Around the fountain are sculptures representing the animal life of Vancouver Island. A few feet away from the fountain is a display that tells of some of the important people who played a part in Canadian and Victorian history. Statues of those same people adorn the building of Parliament.
Randy read all about the building and its architect. Later he came back by himself for a quick tour. The rest of us had other agendas. The building is really something to see, especially at night when it's all aglow with miniature light bulbs which show off its many architecutral features. About the only drawback of our suite at the Grand Pacific is that the Parliament building can't be seen. It's on the wrong end of the hotel. Parliament is right next door to the hotel.
Before we left the Grand Pacific, Peggy was looking over the press packet and was thrilled to see that a Da Vinci exhibit, along with a whale exhibit were at the museum. Unfortunately, they were just dismantling the whale exhibit and the Da Vinci opens in October.
We happily contented ourselves with the permanent exhibits featuring natural history, native American culture and modern history.
I enjoyed seeing the stuffed Grizzly Bear on the main floor. The size of them makes it easy to see why they're so feared in the wild. Someone nearby said, "You don't shoot them. that only makes them mad." Also on the main floor was a display case with a Golden Eagle, several falcons and other birds. On our return ferry trip to Washington we enjoyed seeing an eagle glide within fifty feet from the boat. It was nice seeing them both up close and in the wild.
My favorite native culture display contained about fifteen masks.
In semi-darkness I laid down on the padded benches and rested. A recorded voice talked about each mask. As a new mask was discussed, a spot light would concentrate on the mask. Each mask seemed to float in the darkness as native sounds and information filled the air. Peggy enjoyed the Wild Woman masks, admiring the expressive features and hair that justified the moniker Wild.
My favorite modern display was a full size replica of the stern of the ship Discovery. You can walk around the stern and then enter the display which held the captain's cabin with its desk and charts. Off in the far corner of the cabin and through a door I could see the captain's private head (bathroom), a one holer. I went back to the exterior of the display and looked for an opening. There was none. I was left wondering where the one holer led to. Did it go to the bilge? Would the one holer have dropped immediately into the briny? Where did it lead to? That's the nice thing about museums. They always make you think and leave you with questions. One source of amazement is the size (shorter) people were several hundred years ago and how crowded together they could live.
After and hour and a half Andi, Peggy and I walked back to the hotel leaving Randy to further investigate the displays. We all agreed to meet for dinner at Trophy's, the sports bar and casual dining area at the Grand Pacific.
Peg and I returned to our rooms just in time for a nap. Naps can work wonders. A brief one for me and a longer one for Peggy rejuvenated us for a fun and entertaining evening. At five-fifteen Peg and I went to Trophy's. We sat on the empty non-smoking side. About thirty happy people were on the smoking side. Two 46-inch televisions, each with its own sports channel, entertained anyone not talking or laughing.
Randy and Andi joined us at five-thirty. Andrea, our server, answered our questions and took our orders. My only disappointment in visiting Victoria was in not finding root beer served anywhere. We satisfied ourselves with water, Sprite and a glass of the British Columbia winery's Peller Estates Riesling. Everyone else thought it tasted so good that it had to be European. I wanted it sweeter. They all looked at me in disgust. To each his own.
I ordered the grilled tiger prawns with buerre blanc (white butter) and wasabi (pickled ginger). The prawns were served with garden vegetables and broiled potatoes. They were excellent. Although I don't like wooden slices of ginger with oriental stir fry dishes, I know that the delicate pink slices of pickled ginger add zest to sushi. I tried the ginger with a whole prawn. I quickly ran out of ginger. Next time, I'll order extra ginger.
Peggy ordered the rack of lamb with red currents and grainy Dijon. The lamb was delivered sweet, pink and juicy. The saffron risotto was a nice complement to the meat. Randy and Andi both had fish 'n chips. Our lunch on Sunday at a famous Victoria pub featured English style fish 'n chips. The fish 'n chips at Trophy's were much better.
For dessert Randy and Andi had chocolate pecan pie, Peggy had bumbleberry pie and I asked Andrea to bring me apple flan. I thought I was ordering a custard-like dish. After Andrea walked away Andi and Randy explained that in England a flan is more like a coffee cake. We were all wrong. It was more like a pie. The bumbleberry pie was a mixture of raspberry and rhubarb. I liked it best. The chocolate pecan pie was good, but not as good as the one that Andi made me for Christmas. . .okay, I had to say that or I'd never get another one.
Before the adventure began I mentioned to Randy that I had tickets for poetry reading on Friday evening. His face froze in disbelief. One side of his mouth kind of crept up as if he had tasted something bad. Andi didn't say anything. On the ferry I invited Marty and C.J. to join us. Marty was kinder. She asked the address and said they might join us. I didn't count on it.
Andi decided to stay in her room. Randy joined Peg and me at the Mocambo Coffee House. We attended an open mike performance with a special guest reader. Unfortunately, we had to leave before the poet recited works from her seven published books. Before we left, however, Peg and I were thoroughly into the moment and enjoyed each presentation.
The Mocambo Coffee House is small. It's maybe eighteen to twenty feet wide. As we entered we didn't notice that the microphone was standing in the corner. The distance from the front door to the ordering counter was about twenty-four feet. There was also a small seating area with tables upstairs but we didn't venture up there. We wanted to be close to the action. We sat at a table about twelve feet from the microphone.
Our hostess, Tanya Kern, kept a list of the poets who wished to speak. She is a writer and student of poetry. As Tanya approached the microphone and welcomed everyone I snapped a photograph of her.
She hesitated and then blushingly said, "I'm a minor celebrity in Victoria." She explained the procedures. As the evening went on she juggled the order of the poets. She was in complete control, encouraging and cajoling the readers.
During the break between the open mike portion and the guest reader portion I took another photo of Tanya. Again, she was embarrassed, but allowed it good-naturedly.
Peggy asked that I take a picture of Tanya's boots as well. She wore comfortable slouch boots that just screamed artistic. High heels would not have been the correct footwear to this gathering of poets.
As a toastmaster, I've seen many people struggle with public speaking. Standing in front of people and talking is extremely hard for most people. Standing in front of people and revealing personal glimpses of your emotions must really be a challenge. There were more that one set of knocking knees present.
One young poet was from Alberta. After he read his first poem from a journal, he had nowhere to set his book, so he tucked it between his legs and went onto his second poem. Half way through that poem, he retrieved the book, held it for a while as he continued to speak and then he put the book back between his legs. Notes cascaded from his book to the floor as he spoke. During his presentation someone received a cellular phone call. You could hear him talking in the back. The intruder paused a second and the poet commented, "I didn't mean to interrupt you."
A self-confessed lesbian (it wasn't a secret) recited her poems. My favorite one was Sex isn't simple with a tall girl. She started off by saying how nervous she was. She said she wasn't sure if she was more afraid of people not liking her poetry or of farting while she spoke.
An Irish accented man in his thirties read a story about a farm. It involved a sheep with a broken leg and the collie who killed the sheep which had to be killed to save the flock. His writing makes Russian poetry seem joyous. Gregory Brandenberg read his poetry and a number of one liners. Peg's favorite was, "The nature of man is forgiving. the nature of nature isn't." I think the beautiful phrase, "Rainbows that shatter with footsteps. . ." was his, too, but I'm not sure.
Peter Marlowe, another poet as well as a more polished performer, recited his story based on a native American creation myth starring a raven and polar bear. He began with a traditional, rhythmic manner, as if reciting a long familiar story with accepted and expected phrases, then progressed into a contemporary story and wrapped up with the traditional denouement.
My favorite poet was the first one. When he was introduced, Tanya had just finished her instructions. She admonished her poets to not yell into the microphone. I think, perhaps, the first poet, Seth Gotro, had yelled into the microphone the last time he appeared.
Seth came down from the upstairs sitting area. He is an imposing figure. He's a little over six feet tall and weighs maybe two hundred and fifty pounds. He wore a black T-shirt and black pants. He has a spider web tattoo around his elbow and other tattoos extended up his arms. With his close cropped hair, he hunched over the microphone. He spoke confidently and disarmingly with a touch of self-deprecation. As he began he quoted someone's definition of insanity as someone who has the first eight Black Sabbath albums all playing simultaneously in your head. I think he meant to be funny. He used the "f" word a few times but not exclusively. We heard it a few more times during the evening.
Seth read two poems and then said, "I hate haiku." He remarked how in high school literature classes they always make you read it. Haiku is a simple Japanese art form that often reveals touching amounts of truth, revelation and beauty. Seth read his own haiku:
A bomb fell shrieking
into the heart of the city.
Only I remained.
On Saturday we left the Grand Pacific on our way to the Royal London Wax Museum.
In the breezeway between the Grand Pacific and their hotel with more economical accommodations, we spied a trophy blowing in the wind. Someone had tied a woman's brassiere to a flower standard. I'm guessing it was a trophy. If someone lost a shoe, I don't think that would have been tied up for display. Evidently there are many ways to have fun in Victoria.
We continued on to the wax museum. I didn't see one wick, so you know it had to be a good wax museum. This was my first visit to the wax museum. Randy, Andi and Peggy had all been to the Madame Toussaud's in London. I got the provincial version.
It seems like most famous people, living, dead and in between were present. Marilyn Monroe, Bill Clinton, Margaret Thatcher, John Major, Queen Elizabeth, Prince Charles and Princess Di were all there. There is a display of the English Crown Jewels, as well.
I even saw Snow White and the dwarves. There were Sleepy, Dopey and Napoleon I. I know Napoleon wasn't a dwarf, but at five feet tall he could have whistled and worked the mines with them. I think the major problem for me was knowing that Marlon Brando played the part of Napoleon in the feature film Desiree. Marlon played Napoleon, but believe me Napoleon could never have played Don Corleone. Well, he could have but everyone would have refused his offers.
The wax figures wore appropriate clothing for their periods so in addition to seeing the famous and infamous of the world, you could appreciate their period dress.
My favorite wax statue was an old man sitting in the lobby reading a newspaper. We carried on quite a conversation until I realized he wasn't real.
In the Wax Museum gift shop, Andi began buying English chocolate, a theme continued through the afternoon as she and Peggy hit more stores, four with chocolate supplies: Eatons, Marks and Spencer, The British Candy Shop and Shoppers Drug Mart. Drug Mart even had hand-knit 100% wool sweater at such a good price that Andi came back on Sunday and bought two.
Peggy and Andi enjoyed the sights of downtown Victoria which are never more than a block or two from the harbor. Peggy went to some of the stores she'd visited last year, especially enjoying All in Bloom, a small shop in Trounce Alley. She found a small pewter fountain pen pin, appropriate because she's a calligrapher. She also bought a set of four different miniature dining room chairs, place card holders for dinner parties, appropriate because she collects small chairs and eats dinner. Peggy and Andi went back on Sunday to get more pins for her Tacoma friends, but the store isn't open on February Sundays. She'll try mail order.
One of the things Peggy particularly appreciates at the Grand Pacific is the free shuttle around the city center core by the bellmen. They are ready to go at the drop of a hat and generous with their help and hospitality. Duane and William were kept busy dropping us off and picking us up. Peg and I weren't the only ones that appreciated the staff and the hotel facilities. Jim Coryat of the Fife/Milton Rotary Club can't say enough good things about the hotel. He and his wife, Wali, stayed in the hotel, also. Over a week and a half after we came back to Tacoma Jim carried on for a minute or two over lunch about the Grand Pacific staff. He said, "They were so helpful. From the minute you walk in the door, the people there, behind the counter and in the restuarant - they were just so nice." He also thought that the athletic facilities were the best he's ever seen in a hotel. Randy appreciated them, too. Another nice thing about our stay in the Grand Pacific suite was that the first evening we were there, a bellman brought up a complimentary fruit and chocolate plate. The chocolates were so rich, creamy and dark that Peggy almost swooned. Each night when the maids came to turn down the bed, they left a little piece of paper with a Wordsworth quotation under a little box with two chocolates in it. When you are in Victoria, make it a point to stop at Rogers Chocolatiers. They supply the Grand Pacific and they are the best chocolates I've eaten.
Saturday evening, Randy and Andi decided to go to the Rotary banquet but Peg and I decided to go our own way, straight to the Harbor House, another revisit to last year's memory. About a hundred and fifty yards from the Grand Pacific, the Harbor House is a traditional, well rounded restaurant with waiters in tuxes and guests in everything from suits and dresses to overalls. It must be the tourist mentality. Everyone was welcome. We had steak and lobster with escargot before and asparagus with the meal. The steak was exceptionally good, arriving hot and just pink like Peggy likes hers. The lobster was tender and succulent but Peggy's home-cooked asparagus is better. (We're enjoying Mexican fresh asparagus in the Tacoma markets now.)
Sunday morning, Randy and I went to the Rotary buffet breakfast while Peggy and Andi enjoyed a room service breakfast in our grand suite. They had breakfast served at the dining room table. The curtains on the balcony doors were pulled back to reveal the harbor view. Peggy decided to have the breakfast parfait, yogurt swirled with fresh fruit and granola in parfait glass, fresh fruit plate and toast. We usually buy low or nonfat yogurt so this tasted like cream to her. The strawberries were wonderful. It makes you wonder where the hotel gets the fresh fruit; they buy the best. Andi had been looking forward to an English breakfast with "real" English sausages. They were wonderful sausages, different in taste and finer in texture than American link sausages.
After breakfast we went back shopping for a bit, lunch and then to the ferry. The Grand Pacific accommodated the Rotary meeting schedule by allowing us to have late check out (normally 11 a.m. but extended to 1 p.m. for us.) They also have a baggage storage room where you can leave your cases and bags while you do some more last minute shopping before the ferry leaves.
On the Coho coming back to Port Angeles, we played cards on a suitcase top. We quit when everyone lost interest. I think we had crammed so much into so few days, it was beginning to catch up with us. We arrived back in Tacoma in the evening. . . just in time for bed. When I closed my eyes, I swear I heard the distant mournful sound of bagpipes. The perfect end to a perfect adventure. I slept soundly.
---