Northwest Adventures
Northwest Adventures/Index of Adventures and Play Reviews | Northwest Restaurant Reviews
Safe Travel Tips | Travel Links | Travel Videos | Vacation Adventures
Vanities, Vanities, all is Vanities
Play Review by Peg Doman

"Vanities: a New Musical", a co-production of ACT and 5th Avenue theaters is currently running at ACT in the Fall Theatre. This is where we saw "Menopause, the Musical", twice.
We've seen and enjoyed all three actresses in other productions. Jennifer Sue Johnson (right) starred in ACT's "Eurydice", a tour de force of acting (and the set was fascinating). Cayman Ilika (center) sang beautifully in "Candide" at the 5th Avenue. This was also a beautiful production with glorious singing. Billie Wildrick (lef)is familiar to us as the Madonna-esque Olivia from the Harlequin's "Rock and Roll Twelfth Night" to the 5th Avenue 's effervescent " Wonderful Town " and the hilarious "Funny Thing", among others. She, too, is always endearing and beautiful and sings like a dream. All three actors give nuanced performances in "Vanities" and sing superbly singly and together.
"Vanities" is a period piece, pertaining almost exclusively to a set time. The first act is set in 1963 and we see three high school senior women innocently planning their preferred futures, singing "I Don't Wanna Miss a Thing". The second scene is just pre-college graduation with Ilika lamenting her fascination with "Cute Boys with Short Haircuts". The third is several years after college with Johnson trying to reassure herself that they are all three singing "The Same Old Music" and the fourth is later still, beside Mary's mom's casket and ends with "Letting Go."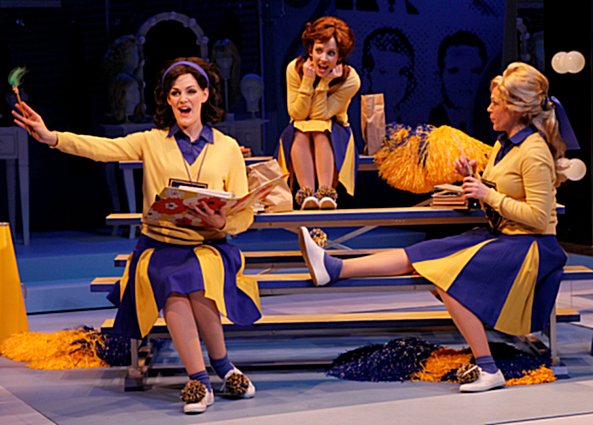 Kathy (Cayman Ilika), Joanne (Jennifer Sue Johnson) and Mary (Billie Wildrick) are seniors in high school and are planning, as is their God-assigned duty as superior creatures, the evening's pep rally, the football game cheers, the dance decorations, and, in fact, their whole lives.
Well, at least Kathy is planning all that. She has a firm, unrelenting grip on her upcoming life. Kathy plans every segment and it is all consigned to lists. Her college career is outlined: where to go, which sorority to pledge, and which courses to take. She also lists and plans when and with whom to have sex for the first time, and consequently, the colors for her wedding, the track of her married life, when and which sex children to have, her social standing and how to achieve and maintain it, and, in fact, her whole future. Every event she can think of is listed and planned; however, no alternatives to her plans are ever considered.
Petite Joanne also has a firm vision of the future. All Joanne wants is to graduate from college, get married to Ted her long-time boyfriend, and after he graduates from law school, have two boys and two girls and settle into a life of Kinder Küche Kirche (children, kitchen and church), a predictable life of the good social and moral values and virtuous good works performed to the less fortunate and probably less deserving.
Mary is the wild one: she doesn't want to plan; she just wants to let life happen. And she wants to have it ALL happen to her.
Of course, the evening of the big pep rally, game and dance is the evening that President Kennedy is assassinated in Dallas . This surprises the three, but it more annoys than concerns them because it disrupts their evening's plans.
The next scene is just before college graduation. Kathy's boyfriend has abandoned her and all her plans, for a girl he'd just met, knocked up and married. She is devastated and adrift.
Joanne, however is secure in her plans for her blue-colored wedding, the great life ahead with her wonderful husband, children soon to be popped out, and church work. She poo-poos the importance and consequences of the Vietnam War. Her comment to her friend's concern is, "Why do you care? You don't know those people." Her only war worry is that Ted may get drafted unless they marry as soon as possible after college. Joanne has a "Candide" Dr. Pangloss view of this as the best of all possible worlds.
Mary is outward bound, completely bored with the idea of college, marriage, children and life in Texas . She's glad that she and her boyfriend broke up because that frees her to LIVE.
Several years later, the three meet again at Kathy's friend's chic Manhattan apartment. Kathy's still trying to make sense of her life and is pursuing a spiritual quest. Joanne has two daughters and one son and, "It's just about time to start trying for the second boy." Mary owns an erotic art gallery in the Village. She loves the dissipation of neon pricks and spills the beans that Joanne's Ted is sleeping with her among many women. Joanne is more outraged by Mary's betrayal than she is by Ted's. Mary tells her to loosen up.
The last scene is the three of them gathering at Mary's mother's casket. Kathy has finally written her successful novel and is living in Montana , still pursuing her spiritual quest. Joanne is divorced, her daughters are almost grown and she thinks her son "… is playing for the other team", but she's relaxed about it. Mary, who so loathed and was embarrassed by her alcoholic mother while growing up, is missing her mom. She has reached a stasis in her life. She now owns a London gallery featuring classical art and is considering marriage for the first time. The three of them have resolved some of the absolutes that plagued their early years.
Scenic designer Matthew Smucker did a marvelous job on the very adaptable set. When the audience is seated, there are three dressing tables with stools in front of them and a hanging rack behind with each person's wardrobe. One by one the actors come out and apply make up, wigs and get dressed. The tables held the wigs for the various ages, and there were dressing room light bulbs around the mirrors. There were also bigger bulbs around the set, elevated on an edge around the stage area. It was disconcerting to see the actors' shod feet clicking by, reflected in the mirrors circling the stage on the ridge.
For each stage of their lives, some representative images were hung. In addition to the hanging elements, each age was symbolized by a set that rose from under the floor. For instance, in the high school years, there were tiger images and varsity jacket lettering hanging as well as a bleacher section that rose up. There were similar images for each age: college had a stylized John Lennon image and Merrimeko flowers and a bed with characteristic college girl clutter. For the post college Manhattan veranda, there was a contemporary sculpture and modern patio furniture. For Mary's mom's mortuary, there was a casket.
The interesting thing about the Catherine Hunt's costumes is how appropriate they were for the age. Kathy and Joanne wore pretty sedate sorority girl pleated plaid skirts and sweaters, and later rather sedate contemporary wear. Joanne especially was prim and very, very proper with her polyester suit and dress with Church Lady influences. In college Mary, on the other hand, was flamboyant in Carnaby Street mini-dresses with long, large-scale print scarves, floppy sunhats and almost knee-high boots. On the Manhattan veranda, she wore a clingy, one-piece, halter-top, jump suit with cleavage showing. In the mortuary, all three wore black but Joanne could have been a Mormon wife.
This production is a reworking as a musical of an earlier, popular off-Broadway drama by Jack Heifner. I did not think the character Kathy was very well developed by Heifner. After her abandonment by her boyfriend, she seems a nebulous personality, lacking a focus or even much in common with the other two women.
David Kirshenbaum's music was consistent with the periods depicted but lacked the soul I experienced during my various ages. The Bossa Nova especially lacked the characteristic rhythm changes that so captivated me in college. Stan Getz and Sergio Mendez would have been disappointed, too.
Although staged at ACT where full advantage was taken of their magical sets, direction and musical staging was provided by the 5th Avenue's David Armstrong. Don and I love David's "Spotlight" hostings at the 5th Avenue. He is a treasure.
"Vanities: a New Musical" runs through May 1 at ACT Theatre. Since this is a co-production of the 5th Avenue and ACT theaters, you can get tickets at both box offices. Season ticket holders from both venues have been accommodated. Call your favorite box office and get your tickets or go online to their respective websites.

---