Northwest Adventures
Northwest Adventures | Northwest Restaurant Reviews
Safe Travel Tips | Travel Links | Travel Videos | Vacation Adventures
A Valentine Adventure in Seattle
by Don and Peg Doman
Peg and I knew we were going to have a wonderful Valentine Week in Seattle. We had a B&B reserved for four days, we had a couple of plays to see, and we had a friend to see. Our favorite Seattle friend is Al Burrage, who actually lives in West Seattle. We rolled into his place about 2:35 in the afternoon on Wednesday and picked him up so the three of us could ride over to our Bed & Breakfast and check in.
With three of us carrying suitcases and garbage bags (pillows and slippers) we checked in and took our luggage to the third floor. The eldest of the three, Al, left breathing the hardest as we made our way to the Frye Art Museum. They had a weird collection of R. Crumb (the man who gave us Keep On Truckin') and a combination of paintings collected by both the Frye and Henry Galleries.
Without a doubt the Spoolpeople of Crumb's made the greatest impression on Peg and I. Al looked, but was not impressed. Art is not for everyone, and not all art is fit for some. Crumb's art is fit for a tiny, tidy sum. There were album covers, plywood cut-outs, statues, cartoons, graphic novels, and much, more from R. Crumb.
In Dreaming the Emerald City two foundational collections of Seattle are brought together for the first time: the collections of Charles and Emma Frye and of Horace C. Henry. The Fryes and Henry collected art during roughly the same period, from the 1890s to the 1920s, and they cemented their legacies by keeping their collections in Seattle. In 1927 the Henry Art Gallery at the University of Washington became the state's first public art museum, and the Frye Art Museum, named after both Charles and Emma, opened to the public in 1952 as the city's first free museum.

The exhibition compares the Fryes' and Henry's collecting directions: these collectors shared an interest in nineteenth- and early-twentieth-century art, but Henry focused on American and French paintings and the Fryes primarily collected German and Austrian art. Despite their different foci, the collections have some artists in common, including William-Adolphe Bouguereau (1825–1905), Louis-Gabriel-Eugene Isabey (1803–86), Eugene Louis Boudin (1824–98), and Childe Hassam (1859–1935). No evidence suggests that competitiveness between the collectors drove their buying decisions; comparable purchases by the Fryes and Henry probably resulted from affordability, market availability, and collecting trends.

Dreaming the Emerald City—the first exhibition to display the Frye Art Museum Collection along with loaned artwork—showcases significant paintings from both museums' holdings: for example, George Inness's Goochland, West Virginia (1884) and Julian Alden Weir's Farmhouse (c. 1888–90) from the Henry and Hermann Corrodi's Venice (c. 1900) and Dániel Somogyi's View of Königssee (1878) from the Frye. Exhibited together, Henry's and the Fryes' collections reveal important genres and themes from European and American art history, including Barbizon School landscapes and Orientalist and Romantic subjects. Also on view will be archival photographs and exhibition catalogues documenting the exhibition programs and building projects undertaken by the Frye Art Museum and the Henry Art Gallery since their founding.
I have my favorites from the Frye collection and added a few more this visit with the Henry additions. An old friend is the View of Königssee. In looking for more information I found a view of the lake from Hitler's Eagle's Nest at Berchtesgaden. Unfortunately, I'll never look at the picture again without thinking about Hitler and his private view.
A new favorite was a ship leaving the Doge's Palace in Venice. The colors were so vibrant, the painting was stunning and grabbed my attention from across the room screaming Venice. Hung on a wall with six other paintings of Venice it put them all to shame. Peg felt the same. We have good taste.
After leaving the Frye we headed back to West Seattle. We drove along Harbor Avenue and stopped for Fish and Chips at Alki Crab & Fish. The large print on the window promised "All You Can Eat." The small print limited that feature to one day a week for fish and one day a week for prawns. We were there between the two days. Peg and Al ordered combos. I ordered the steamed clams. I didn't like the flavoring of tomato, so gave my breadbowl of clams to Al to finish as I ordered a combo. The fish, scallops, and oysters were good. I wish I had ordered more oysters. They were really good.
Stuffed full of fried foods we drove back to Al's home. The timing left us with too much time before an anticipated movie at seven and unfortunately, we each fell asleep and then didn't feel like going to a movie after the nap. Peg was content to stay at watch Jeopardy. We visited while we watched TV and made plans to get together on Friday evening for dinner prior to 100 Heartbreaks. Peg and I were to scout out an appropriate place for dinner.
Peg and I drove back to Capitol Hill and the Garnet Room at the The 11th Avenue Inn. When we had dropped off our bags earlier, we didn't have time to really look at our room or the B&B itself. It would actually be several days before we realized what a nice choice we had made.
Each side of the queen bed had a skylight, which didn't do too much for us on cold and foggy days, but we had a couple of clear nights where we could look up and see the stars and a 3/4 moon. Very nice . . . very pleasant . . . and very romantic.
As a precaution we brought along two reading lamps for either side of the bed. We used them well. Most B&Bs and hotel rooms lack adequate lighting for reading, so we try to be prepared. The room was comfortable with a nice oriental carpet on the floor and our own bathroom with a Jacuzzi tub and shower combination.
The inn has 8 bedrooms and a large dining room. By the weekend it was quite full, but by then we had time to talk to other guests and establish friendships. Breakfast conversations were lively and laugh filled.
Most mornings started off with me getting on the internet to check messages and then sitting down to breakfast at 7:30. After coffee, a wonderful homey breakfast, and conversations I would excuse myself, so I could go wake Peg at 8:30 and then she would join us at the breakfast table. There were as many reasons for being in Seattle as there were people at the table. We first met Norma and Frank from Houston, who chose Seattle as a fun desination. They traveled via ferry and car and enjoyed themselves. Kay and Bill lived in France nine months of the year and Seattle was one of their stops to visit children and grandchildren during a three month vacation from retirement. Peg and I were in Seattle to enjoy nearly a week of togetherness and the theatre.
Peg and I had a one o'clock interview with Joanna Horowitz who was the creater of 100 Heartbreaks and the star of the one person production. We were to meet her at the Argento Cafe, which was supposedly close to the Capitol Hill Arts Center where the 100 Heartbreaks was being presented. We asked Bev, the housekeeper at the B&B for directions: "Walk down three blocks and up one. It's on the corner."
Actually, our B&B reminded me an apartment we rented in Barcelona. It was centrally located and in the thick of what we wanted to do. Peg and I read for awhile, napped, and then walked to Argento for soup, a sandwich, and coffee before meeting Joanna.
At the Argento we were welcomed by Faizel. "Just like Basil, but with an F," he said. Actually, an F, and a Z, and an E, but other than that he was correct. While we were there we also saw Alec Baldwin and Britney Spears. The cafe is small and without much variety (two sandwiches). Peg and I cleaned them out of apple fritters (two). It was constantly busy.
Here is what another avid fan says of the cafe: "Awesome coffee and a cool, relaxed space to chill with free WiFi, and delicious hot soups and sandwiches. Faizel, the owner and sole barista, rocks the socks off the neighborhood and is one of the more colorful inhabitants of the Hill." I never saw a business card, but someone said it reads, "Gay coffee, Straight espresso."
Peg had the soup and it was very good. I had a few sips. I had the turkey sandwich and it was really good. Peg took a bite. The seating was comfortable and there were even art books to read while you waited for company or drank your coffee/tea. Regulars were greeted warmly, but then so were we. We saw Faizel two days later and he said hello and smiled. One more cup and we could have been regulars.

Joanna arrived at one and over coffee we talked about her roots in Ellensburg, her parents who teach at Central Washington University, and the evolving one hour production of 100 Heartbreaks.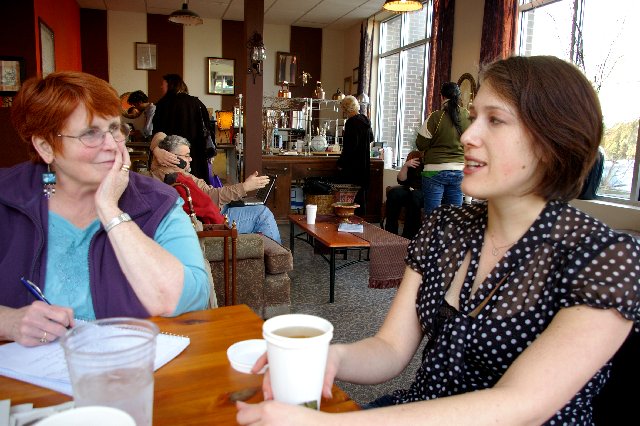 In her spare time Joanna works for the Seattle Rep in the PR department. As a struggling member of the acting arts community she has also worked at The Shack, the basement venue at the Capitol Hill Arts Center. The Shack is a blackbox space that can become almost anything.
With 100 Heartbreaks Joanna is able to play the guitar, sing, and tell stories that entertain. Her songs contain humor as well as tales of love gone bad. Joanna would love to take the show on the road. She drew the character Charlane Tucker out of her own experiences. She had a horrible year with 30 first dates. Her father has helped her with her guitar playing and suggestions. Her friends have also helped with suggestions and support. As a member of the Seattle Theatre Family she was also able to choose Jennifer Zeyl, a director she admired, as her director. After talking to Joanna we were really excited about seeing the play . . . or is it a performance piece? As soon as Joanna left, Peg and I picked up our books and papers. I went down the street to take some pictures and turned around to see no Peg.
I retraced my steps while looking in the windows. She hadn't gone very far at all. About thirty feet from Argento Cafe was Taragonna Wine & Food. I saw Peg talking to someone behind the counter. Peg had seen a sign near the front door mentioning a Friday wine tasting. Peg confirmed the starting time and the type of wine they were going offer. It was Malbec, which is a grape grown in the Mendoza Region of Argentina. It has a nice rich color and taste. It's a personal favorite. We wrote down the information for our journal.
Walking down the street we found the Capitol Hill Art Center in what looks like an old hardware store. On the main floor we discovered Crave Restaurant (www.cravefood.com). We looked over the menu and wanted to eat again right then. We settled for making reservations. Within a short time we had put together what sounded like a great Friday evening. We would have wine tasting at 5:00 followed by dinner at Crave at 6:00. Joanna had also told us about her opening act, a country group called Purty Mouth. They were to start playing at 7:30 followed at 8:30 with Joanna as Charlane Tucker and 100 Heartbreaks.
We called Al, so he could confirm Friday night's activities with his friend Lori. Then Peg and I went shopping. We visited Value Village and Half Price Books and found good deals on books, a poster, and a pirate ship for our grandson.
We saw Jimi Hendrix playing guitar by himself on Broadway. We stopped to take his picture. Jimi Hendrix of course was from Seattle. It is rare to see him undecorated. Tourists, specially Japanese tourists, have to have their photographs taken with Jimi and often leave him with a hat, a scarf, a lei, or anything else they think he might need. I took three different shots of Jimi . . . two with my baseball cap on his head . . . one turned around to give him attitude.
After photographing Jimi, we parked the car and walked around Capitol Hill. There are so many interesting places to go, see, and experience. Jimi's words float to conciousness, "Are you experienced?" The answer is Yes, of course we are experienced . . . experienced shoppers!!!
We bought beads, looked at modern saddle shoes, ate Piroshky, looked at floating dolphins and a flying dinosaur, talked to people, were offered special discounts . . . we had a great time walking hand in hand around Capitol Hill. And then we returned to the B&B for a little quiet time . . . a little reading . . . and a little napping before heading out to see the Fifth Avenue's Mame.
"An eccentric socialite in the Roaring '20s finds her madcap Manhattan lifestyle turned upside down when she is appointed guardian of her orphaned nephew." When Peg and I first met at the University of Puget Sound one of the first things we did was talk about music, films, and books . . . we still talk about those very same things, but back then I shared my love of the book Auntie Mame by Patrick Dennis, a favorite author. The philosophy of Auntie Mame is wrapped up in one quotation, "Life is a banquet and most poor sons of bitches are starving to death." Our children have grown up with the quotation and the philosophy. Our oldest son even sandblasted the quotation on a piece of granite as a present to us. It stands in a little garden by our front steps and greets visitors to our home.
We've seen the Rosalind Russell film of Auntie Mame as well as the Lucille Ball version of Mame, but we had never seen the stage version until Valentine's Day 2008. The spectacular staging from Seattle's Fifth Avenue Theatre will make a Valentine to remember for years and years. As we drove to the Fifth Avenue, we saw a window display at Nordstrom's. The display used a series of contour drawings resembling the drawing style of Henri Matisse. He has always had a place in my heart as well as Peg's. Three years ago I bought a Matisse drawing for Peg, but it wasn't until just this last December that we had it framed and hung. Peg made me promise that before we left town we would take a photograph of the display.
After Mame Peg and I didn't want the evening to end early, even though it took us over half an hour to get out of the paid parking lot a block away from the Fifth Avenue. Actually, there is not a good solution for parking while attending plays in downtown Seattle. We've pretty much learned to put up with it . . . but we still grouse about it endlessly . . . or at least, I do.
As we approached Capitol Hill we decided to try the Jai Thai Restaurant. In our Capitol Hill windowshopping we had seen a sign that said they served food until one in the morning. It worked for us. We shared some fried egg rolls. Peg had a beer and I had three glasses of orange/cranberry juice. I was thirsty. One of my favorite snacks at the Fifth Avenue is their plastic Champagne glasses of first-rate olives. I'm happy to shell out several dollars for salty olives, while Peg buys the plastic Champagne glass of mixed nuts. We're so predictable. I don't drink their punch, however . . . the lines are too long for the bathrooms.
The Jai Thai service was excellent both at midnight as well as mid-day. We came back the next day. The lunch time waiter saw my camera and couldn't contain himself. We talked about cameras and video production. Friendly, friendly, friendly.
The next morning saw us telling our B&B friends about the production and the fun we had. Each morning we all shared our adventures from the previous day and talked about our plans for the day. Breakfast is served each morning from 7:30 to 9:30, but in reality we spent more time than that talking, laughing, and sharing. Bev, the housekeeper, cleaned up around us. Each morning was a delight.
Kay and Bill were staying longer than us, so we had a chance to chat with them everyday. They talked of wine, the political situation in France, European health care, the value of the dollar versus the Euro, and more. Our talks were not like lectures, but rather lively discussions of Q&A. The conversation ball was batted around freely. New friends became old friends quickly. We joked with each other and laughed with each other. Each day was a like a happy family reunion that you never wanted to end . . . and yet, we each knew it would.
Friday was our big evening out, so we spent most of the day relaxing and reading. By 4:30 we were up and ready for a full evening of fun. Peg and I walked the easy three plus blocks to Taragonna Wine. We were the first ones there. Soon after we arrived other people joined us and then Lori and Al came and our evening began.
Although Al and Lori have been friends for almost a year, Peg and I had never met her. Al had shared pictures of her and told us many things about her, but several attempts to get together had faltered.
The Taragonna served four bottles of Malbec wine. The first one was a Cabernet blend. It seemed to lack the qualities of both and offered no reason to buy it. The second bottle was the least expensive bottle of straight Malbec. It was excellent, and better or at least as good as the more expensives bottles. All four of us agreed. Peg and I bought two bottles of Malbec as well as a bottle of Prosecco (a sparkling white Italian wine).
The Malbec bottles were only $10 each. By Monday evening we were irritated that we had not purchased more. Upon returning to Tacoma on Sunday we had attended a dinner party and presented a bottle to the hosts. I helped serve it, but had none myself. I wanted others to try the tasty wine. The other bottle of Malbec went to good friends who introduced us to Malbec in the first place.
By 5:30 we had sampled the four wines and made our purchases. The Taragonna was getting crowded. I suggested that we walk over to the restaurant and see if we could get our reserved table a little early. The Crave was happy to accomodate us. We sat down and began looking over the menu. Kristie, the waitress/manager/chef, was friendly.
There were many interesting items on the menu at Crave. For an appetizer I ordered the white bean pate. It was served with excellent bread, olive oil, and balsamic vinegar. I asked for sea salt and was brought a small bowl with a tiny wooden spoon. I will create a white bean pate for our next dinner party. It was good. For a side order I had the golden beets. Next time Peg said she will order her own side of those. They were cooked and served with just the right amount of toothiness. I had the Mole Lamb Shank and Peg had the Arctic Char. Both were excellent, but . . . my lamb was served with a formed couscous, which seemed too dry for my liking . . . and Peg's entree was served with purple potatoe cakes, which had a consistancy that did not appeal to either one of us. In addition we ordered a large bowl of carrot and parsnip soup. Yes, sir . . . that was good soup. Next time there I will have the pate, the beets, and the soup . . . maybe a couple of orders of each with maybe a lamb bone to chew on. At the end of the meal we were extremely happy, but we had no room for dessert.
After dinner we left the restaurant and walked back out to the sidewalk. From there we walked to the side of the building and a small sandwichboard directed us down a ramp to the basement and The Shack. We were a little early, but we claimed the seats we wanted at a small table for four at center stage. We were maybe six feet from the stage itself. To get ready we visited the bar and bought drinks and brought them back out to the table. The four of us sat and talked about dinner and relaxed before the show.
Since this was opening night, it was a little extra special. In addition to 100 Heartbreaks, we were being entertained with Purty Mouth, a country western band as an opening act . . . all for only $15! How could anyone pass that up?
That night Purty Mouth featured female singer, Lori Ramon, harmonica player, Tim Moore, a bass player, drummer, Timothy Dunn, and Mikey Budd as the front man on rhythm guitar and vocals. They kept up banter about Charlane and played some rousing songs. They had a nice sense of fun. Lori Ramon had a great voice. I would love to hear her sing blues. Mikey introduced the song Needles and Pins and I said, "Oh, nice. Sonny Bono," but Al just looked at me and shook his head. I said, "He wrote it." Al refused to believe it. Mikey continued, "How can you play country western music without a song by Sonny Bono?" I think Al thought that Mikey had overheard me and was just playing with him. Purty Mouth played and Mikey sang Needles and Pins, with somewhat changed lyrics. It's usually a song sung to a girl by a guy. This time is was a guy singing to a guy. This told me a little bit about the band.
Mikey and the group did another song. He said the song South Tacoma got them kicked out of a roadhouse in Bellevue. I liked the song, but didn't understand the lyrics, but knew that if I was asked where I was from, I was going to announce North Tacoma. It turned out the song is about trolling the gay bars in South Tacoma.
Later I was able to check out their website and read more about them. Part of their description says ". . . they honed their vision of country & western, as viewed through the eyes of three gay men – a cocktail of countrypolitan, costume & camp." The website also mentions they perform originals as well as "with covers drawn from the catalogs of Kirsty MacColl, Highway 101, Wanda Jackson, Tammy Wynette, the Kendalls, the Beatles and Gram Parsons, with nods to the Nashville and Hedwig and the Angry Inch soundtracks." I enjoyed the film Hedwig and the Angry Inch, so just that little piece of news explained a lot.
Purty Mouth played one set and then tore down, Charlane's microphone was set up and she came on stage just a couple of minutes past 8:30. Charlane Tucker made fun of country music, herself and the focus required by anyone searching for fame and fortune. Charlane makes her entrance and sings a song and tells stories. She welcomed everyone to The Shack and mentioned that she brought her American Flag, which was hanging behind her. "I hang it vertically 'cause you know stripes are thinning." Charlane tells us about growing up poor in Kentucky, advice from her momma (You ain't living, if you ain't losing."), her father buying her a guitar from prison, her failed marriage ("He beat me blue."), and her need for heartbreaks to make her a better country singer.
The one-woman country music show is about "picking up, breaking up and drinking up." Joanna Horowitz created the persona of Charlane Tucker and her journey to Nashville and fame. Charlane is determined to move up the ladder of success one rung at a time, or rather one heartbreak at a time. She just knows that if she can meet one hundred men, fall in love, and have then leave her, then she will have the tragic life of a country singer with a suitcase full of songs to rely on. Charlane's ballad, One Man Closer to Nashville, describing each of her past 43 lovers was funny.
Eventually, she tells us about the man she met the night before. Uh, oh, trouble in paradise. She fell in love "somewhere between last call and first light." She doesn't know what to do and asks the audience for help . . . and then of course sings a song. "I'm staring at my glass half empty and all I'm seeing is my bed half full."
In the end she thanks the crowd and runs out the back door, just off the stage, to catch a bus. Charlane or Joanna could have come back for an encore or at least a final bow, but she chose to leave on a high note of grand applause.
The Shack sat about forty people around small round tables with some red naugahyde booths on either end of the stage and two rows of folding chairs along the back wall. There were probably 80 people there for the performance. There were no empty seats, but there may have been people standing or wandering back and forth to the bar. When Joanna came back to mix with the crowd without her Charlane blonde wig, we discovered that her parents had been sitting at the table next to us just a few feet closer to the stage. We had been trying to guess who her parents were in the crowd. They enjoyed the show as did everyone in the room. Charlane and Joanna were very well received.
All four of us had a wonderful evening. The wine tasting was great. We purchased three bottles. The food was excellent and The Shack felt like an authentic country bar. Purty Mouth and Charlane gave us nearly two hours of country western twang and "swang." Joanna gave us a character that we could all feel and pull for either as a housewife or as a successful country, recording star. If you get a chance to see the show, jump at it.
We made a date with Lori and Al for later in the month. We had a nice time with the two of them. Lori fit right in and enjoyed the evening . . . but then, who wouldn't?
As easily and as completely as Friday went together, Saturday fell apart. At Mame we tentatively set up a date with an old friend. She tried to get tickets for the Book-It production of Persuasion, but it was sold out. She called and left a message on our cell cancelling her Saturday evening with us. We had hoped to have dinner with her as well as attending the theater. Oh, well maybe next time.
Saturday morning the breakfast gathering went really well, again. More people were added to the mix including two sisters from Sacramento (Diane) and Napa (Barbara). I mentioned that for Christmas I had purchased four paintings by Napa Artist, Sally Rosembaum. Barbara said, "I just saw her at the grocery store!" It is a small world. Peg told everyone how Sally had donated four prints to TACID (Tacoma Area Coalition of Individuals with Disabilities) of which I am the board vice chair. Barbara said, "She does a lot of that back home, too." Peg and I love her paintings. We had them hung as soon as we received them in the mail. We love art.
On our way to lunch we took some photographs of the owl sculpture in the front yard at the B&B. It stands hearly five feet tall. The face has basic features, but the right eye is actually a hole. Joking around Peg looked through the eye and I snapped a shot of her. The owl reminds me of the John Keats poem, St. Agnes's Eve, ". . . ah, bitter chill it was, the owl for all his feathers was acold." The dark marble was very cold.
Peg and I went looking for a barbeque restaurant, but it must have closed. We couldn't find it. We circled back and decided to eat lunch at the Crave where we had enjoyed dinner the night before. We got there just at noon and there was a waitlist. We left disappointed. We didn't have the energy to look for some place new and exciting, but Peg mentioned that each time we walk around Broadway, we look into Julia's but have never eaten there. We gave it a try. Great service and great food. I was even able to order breakfast. My chicken fried steak was excellent. Peg had a salmon sandwich and we were happy until dinner time.
We visited the food court at the Seattle Center. Peg had a bockwurst, which was good, but I ordered Chinese and was less than pleased. There was some sort of fundraising entertainment going on at the Center. I watched a sleeping man with a toothpick in his mouth. I swear he never moved in the thiry minutes we were there. I almost envied him. After dinner we went downstairs for Persuasion, but although we had made arrangements, there were no tickets set aside for us and it was sold out. We drug ourselves to our car and returned to the B&B. We were disappointed that we missed the production, but the most disappointing part of the evening was that we wasted a chance for a decent meal by eating at the food court. Back at the B&B Peg stayed downstairs in the living room reading, while I went to bed and read there.
The first morning at the B&B I took a picture of the empty dining room as it was being set up for breakfast. The photograph reminds me that it is people that make the difference no matter where we are. In my mind the dining room is never empty. We had great conversations, lots of laughter, and goodtimes all four mornings we were there. The last morning we met a new couple from Salem, Oregon, but they were originally from Texas. The husband graduated from Texas A&M (Agricultural and Military). I told a story about my beloved UW Huskies being pounded there by the Aggies in what felt like 300 degree weather at the football stadium. The cadets never even broke a sweat in their full uniforms. The two of them chuckled. I think I was sweating just thinking of the heat.
Peg and I had a great time in Seattle for Valentine Week. We enjoyed talking to old friends and meeting new ones. We were a little sad to leave it all behind. On Valentine's Day itself Peg gave me a love gun that shot little plastic cupids up to fifteen feet. I was shot a long time ago, however.
It was a wonderful adventure. I told Peg, "If you didn't like this week, I'll never take you, again." And she said, "Okay, when are we going back?"
On our way out of town we circled the downtown area several times to get a shot of the contour drawings in the window display at Nordstom's. Elegant, wistful, and too beautiful for words . . . just like our five day vacation in Seattle.
---
This site was designed and maintained by PublicDoman.com.
If you have any questions or comments, please contact us at trainingmedia@yahoo.com.