Northwest Adventures
Northwest Adventures | Northwest Restaurant Reviews
Safe Travel Tips | Travel Links | Travel Videos | Vacation Adventures
A Tacoma Home Town Adventure
by Don and Peg Doman
To some people, an adventure means leaving town and traveling. Adventure is where you find it, however. This Pacific Northwest Adventure starts and ends in Tacoma - our home town. The adventure includes staying at the Sheraton Tacoma Hotel, dining at Altezzo's while discussing food, Ireland and life in general with chef Charlie McManus, shopping for art supplies and antiques, an interview with a mother-daughter acting duo and viewing a wonderful play at the Tacoma Actors Guild.
After scurrying around the house while trying to accomplish last minutes tasks Peggy and I loaded up our car and drove away from home to begin our adventure. We waved to our neighbor, Mal Engstrom, who was outside working on his lawn. By the time we had reached the end of the block we realized that we had forgotten our camera. Leaving things behind was a recurring theme throughout our Tacoma home town adventure. We circled the block, retrieved our Minolta and drove away, again. We honked our horn and waved at Mal, once more. He waved to us with a puzzled smile on his face.
Less than ten minutes later we arrived at the Sheraton Tacoma Hotel. Three times the valet tried to leave with our car. Three times we knocked on the glass and grabbed something else out of the car.
We checked into our room and I collapsed for a nap while Peggy went for a light lunch at the Broadway Grill. She had a delightful young lettuce salad and bread. Wonderful.
When Peg came back she took out her color pencils and started drawing and sketching the wallpaper, drapes, shower curtains. Peg likes to create art where ever she goes. Her sketches reveal as much about our adventures as our writing and our photographs. Sometimes we take her drawings out of her books and put them on our wall of memories.
After sleeping for a little over an hour I got out of the king-size bed and walked around the fifteenth floor suite and admired the room, the view and Peg's sketches. The decor of the Sheraton is done in a golden and red Tuscan style. Our room was quite large and contained both a writing table and a dining table. There were also two easy chairs in a conversation area on the North side of the room.
The windows revealed the best views I've seen in a downtown hotel. Our room on Waikiki Beach looked out onto palm trees, a white sand beach, and a beautiful blue ocean. That was nice, but it wasn't as interesting as our view from the Sheraton. The North wall windows looked out and down the Broadway Mall. The East wall windows overlooked the Thea Foss waterway, the Port of Tacoma, the Tacoma Dome, the Puyallup Valley and Mount Rainier. Now, that's a lot of overlooking!
During our three day stay I repeatedly stood at the window and looked over the views. Day time, night time, and in between, the view was wonderful. Looking at the gathering of buildings below it was like looking at a family. There were senior members with their rich histories, the middle-age members with their affluent demeanor and the young upstarts with their whole life before them showing off and strutting their stuff.
The Northwest weather was typically unpredictable. It changed from minute to minute. Sunlight played across the patterns of nature and man. Clouds rolled over the hills. And for five beautiful minutes I saw a rain and hail storm travel down the Puyallup River valley and into the port area. Lightning added a little extra drama. During our adventure I must have seen a dozen or more rainbows from the comfort of our Tuscan villa inside the Sheraton.
In the early evening we took refreshing showers, dressed and traveled by elevator to dinner at Altezzo's on the top floor of the hotel. As we stepped off the elevator we saw a mounted fountain. Peg's Catholic hertage took over and she blessed herself. We were greeted and seated immediately by the hostess. We were the only patrons, which wasn't too surprising since it was Good Friday and only 6:00 p.m.
Our table was next to a window with a Southern view. From there we could see the McKinley Hill area, the University of Washington - Tacoma campus and the hillside from Yakima down to Pacific.
Our waitress was Christina who cheerfully welcomed us and took our orders for drinks. She had a nice smile. . . with dimples. Peg had a lime Perrier and I had a glass of merlot. We looked over the list of appetizers and settled on the Gamberi prawns and Fungi. The prawns were gilled with lemon and hot peppers - succulent and pungent. The Fungi was a combination of sautéed shitake mushrooms, peppers, onions and garlic on a bed of cream sauce served with toast points. What's not to like? The dish was originally "thrown together" by Chef Charlie McManus. It was an instant hit and has stayed on the menu. I hope it stays there a long time. The foccacia bread that was served with the appetizers was used to soak up much of the cream sauce.
Before we finished our appetizers and before we ordered our entrees, Chef Charlie McManus joined us. We chatted for a while and Charlie made some dining suggestions for us. Peg ordered a fennel and mushroom soup and I ordered a Ceasar salad. For dinner Peg asked for the saffron risotto with mahi-mahi and I ordered the pork chops with pan roasted vegetables.
Charlie came back and we talked about Ireland, food, movies, books and dogs. Charlie is from Belfast in Northern Ireland. He moved to the US when he was nineteen. In general conversation he doesn't seem to have an accent and then he slips in a word or two that just doesn't sound American.
Rising from the ranks of dishwasher, Charlie learned his trade from the cooks and chefs he worked with at El Molina and Ponti Seafood Grill. He and his wife moved to Tacoma in 1991. They were attracted to Tacoma by the house prices; they purchased a home on the Eastside. Charlie said he was used to violence in Belfast, but was unprepared for Tacoma. He said within the first week after moving in there was a shooting and a murder in his new neighborhood. He says, "I got whiplash," from the deadly activities.
Charlie pointed out the location of his home to us. It was off to the right of the radio tower and across the street from the large Sequoia that stands above everything else on the crest of the hill. We could just make out the tip of the tree in the growing twilight.
Things have settled down since Charlie's initiation by fire into Tacoma. He and his wife have their own garden, and last summer they painted their home. Keeping them company are two Kerry Blue Terriers.
The Terriers are Fergus and Emer, a male and a female. Charlie explained that Kerry Blue's were bred to catch badgers and rats. They like people and children, but they hate other dogs. . . even Kerry Blue Terriers of the same sex. Kerry Blues are squarish dogs that stand about twenty inches high and weigh about forty-five pounds.
Fergus and Emer are named after Irish folk heroes. Charlie told us the folk tale of Irish hero Cuchullain, the Hound of Ulster. Although their lineage is Irish and their names are Irish, the dogs were bred here in the Northwest. Charlie loves his dogs, his wife, gardening and cooking. . . not necessarily in that order.
At home Charlie does the cooking. He likes to cook fast and prefers grilling. He uses his barbecue even in the winter and grills mostly fish. Charlie's love for grilled fish is apparent in the menu selections at both Altezzo and the Broadway Grill (fourth floor) at the Sheraton. Charlie is in charge of both.
Charlie buys his fish from two places in Seattle. They keep an eye out for his favorites like yellow tail and if they have it they send enough for twenty or thirty orders. Locally, Charlie likes to shop at Queen Anne Thriftway in the Proctor District for his home cooking. He drives across town to make his purchases. He likes the organically grown chicken.
Wild is the salmon of choice for Charlie's menus. Wild has more taste than farm raised and wild Northwest salmon is better than Irish salmon. He told us about fishing for salmon with his dad in Ireland. After a heavy rain, the rivers swell, but they don't carry sediment like the Puyallup does. The rains come off the peat bogs and the river runs clear. The odor of the peat is caught by the salmon as they run up the rivers. His father caught a nice sized one and within hours Charlie had it cleaned, cooked and served. As fresh as that salmon was, it still couldn't compare to wild salmon from the cold waters of the Pacific Northwest.
Besides being in charge, what Charlie likes most is the changing of the seasons. "Right now they're teasing us with baby vegetables," he said lost in thought. He likes to use everything fresh. As the seasons change, different food is available, so even though the menu changes a couple times a year, there are new "specials" daily and weekly.
Christina twisted our arms while Charlie advised us on dessert. Peg and I shared a pear and strawberry tart a la mode. The strawberry and pear worked very well together with their flavors and textures. The tart tasted like a shortbread cookie. I had a couple of bites while I was talking to Charlie and then noticed that somehow the plate was clean. Peg smiled over her fork. She looked happy and satisfied. Charlie thanked us for dining at Altezzo's and we promised to return.
Peg and I went back to our room. I looked at the view for a while and then went to bed while Peg stayed up and sketched in her art book.
Saturday was a sleep-in day, but my mid-morning we were on our way. Our first stop was the downtown post office. Nearby, on the corner stands one of my favorite Tacoma sculptures: it's a cast metal artwork of three seals. Small, whippet-thin trees form a back drop for the seals and the shadows cast by the leaves shimmer over the seals as if they were bronze bullets shooting through our local currents.
After leaving the seals we went shopping. We parked on St. Helens at the old, downtown Buick dealership, which is now called Step Back in Time. They sell fine, old automobiles and exotic cars there. I strolled through the garage making a wish list.
There were a DeLorean, a '65 Mustang convertible, a '60 T-Bird convertible, a Buick sedan, and a Cadillac coupe that would all look nice under my carport. The cars are all eye-stoppers AND reasonably priced. The Mustang was less than $10,000 and the T-Bird was about $14,000.
I came out of the garage and went next door where there was a large antique sale going on. Peg had already made two selections. As I walked up to her I noticed she was talking to friend Cindy Zamjahn. Cindy and her husband Dick live a few blocks away from us. We've run into Cindy out bargain shopping before. We talked about bargains and the Internet. Also shopping there was Tim Skrivan. He recently purchased a house above the Ruston Way restaurant C. I. Shennanigan's and just a mile or so away from the Zamjahns and us.
Tim was looking over two oriental carpets for his new/old home. He remarked, "Have you bought here before? They've got good prices." The place isn't open all the time, but on good weather weekends, it operates fairly regularly. Peg found a good deal on a child's rocker, which will be greatly appreciated by our grandchildren. I think the rocker is an antique from Taiwan. She also discovered a nice hand painted dish from a walled city in France. She was really excited about that.
Art is where you find it . . . and Tacoma has quite a bit to look at and experience. Sometime you have to search for it, and sometimes it's just looking over your shoulder.

Our next destination was Freighthouse Square. I dropped Peg off and went to a computer store looking for a mouse for my laptop computer. Even with all the different restaurants in Freighthouse Square, I knew right were to find Peg when I came back. She was just attempting to finish a bowl of hot and sour soup at Wendy's Vietnamese. She wanted something small so settled for a bowl of soup.
Wendy's is one of our favorite restaurants in the Pacific Northwest. Sitting with Peg when I arrived was Wendy Au herself. Wendy chided me for not eating at her restaurant in awhile and I promised I would do better in the future. We chatted about our kids and her kids and the rest of our families.
Wendy's is one our favorite places to eat because, like Charlie McManus, Wendy insists on fresh meat, fish and produce. Peg complained that her bowl of soup was too much to eat and Wendy said, "Everything is made to order. We can't make hot and sour soup up before hand, it just doesn't keep. So I made that up just for you, just to order." Wendy's is celebrating ten years of business in the Freighthouse location. It's a family enterprise and her husband and their kids and her father and her sister . . ., everyone in the family has worked in the restaurants. They opened a second location on Tacoma Mall Boulevard several years ago that continues the Wendy's tradition.
We joked around with Wendy for a time and talked about some of our friends and her other customers, then Peg and I went back to the Sheraton. Peg worked on her drawings while I took a short walk.
After five I ordered from room service for dinner. Although the room service menu looks complete, it doesn't contain all the items from the Broadway Grill, but you can order any item from there as well. Barbara delivered our meal in about twenty minutes and she stated, "Well, you ordered most of my favorites." They turned out to be our favorites too. I always say, "You can dine in the restaurant and enjoy the ambiance of fine dining or you can order from room service and lick the plates. There was a lot of plate licking going on.
The meal was set on the dining table next to the window. While Celtic tunes played on the radio show Prairie Home Companion we dined on crispy fried oysters, sautéed Manila clams, king salmon, swordfish and fresh roasted vegetables. There were slices of good chewy bread to go with dinner. The bread was used to sop up the nectar-like broth of the Manila clams.
Peg and I like eating in restuarants and being around people, but every once in a while, it is comforting and relaxing just to have dinner served to you in your room. You can take your time . . . and eat as much as you like . . . as quickly or as slowly as you like.
After dinner it would have been nice to take another nap, but adventures don't allow too many naps. We were off to the Tacoma Actors Guild. We parked our car across from the Theatre on the Square, and looked at some of the Broadway sights. The Theatre on the Square is adjacent to a beautiful little park, which features a fountain, open spaces, and a mural.
There are many windows to look in and view displayed art. Art is even on the walls. There are a number of murals in downtown Tacoma that add color and interest to everything from the park by the Theatre On The Square and even the parking lot across from the theatre.

Next, we went to the "Will Call" window at the box office. While we waited for our tickets to Quilters, a young, dark haired woman looked in a couple of times from an inside door. After we had our tickets we asked if she was waiting for an interview. "Yes," she said.
Anna Orme introduced herself and Priscilla Hake Lauris. They took us to the TAG rehearsal hall. Priscilla was playing pioneer Sarah McKendree Bonham. The play revolves around Sarah's and her six daughters' trials and triumphs and they piece together a quilt. In the play Sarah says, "We're gonna put this quilt together block by block. Each block is different, each pattern has a thread of somebody's life running' through it."
Anna kept referring to Priscilla as "Mom." I assumed it was because Anna played the part of Jane, one of Sarah's daughters. I was wrong. Anna said, "No, she really is my mom." Quilters marked Priscilla and Anna's first actual play together.
The play was a showcase for Pacific Northwest actresses. Peg and I had seen each one of the actresses in other performances at TAG. Anna had been in Chorus Line, the opening performance at the new theatre when TAG moved from St. Leo's to Broadway. Priscilla has been in four different productions at TAG: The Cocktail Hour, Belle of Amherst, Cole, and Cowardly Custard. Priscilla also has film and TV credits. She played the dean's secretary in the movie Animal House and then reprised the role for the ABC-TV series Delta House.
Quilters featured some fine songs, backed by fiddle and piano, that contained more than just a smidgen of Celtic influence. The voices blended well together.
Anna is a graduate of Pacific Lutheran University. Her husband is also "in the business", as is Priscilla's husband. She's always known she wanted to be an actress and first appearance on stage was when she was seven.. Of the seven actresses in Quilters, only two are non-union. Anna is one of them. By being non-union she can perform in more musical productions, which she adores.
One of Anna's credits is Amalia in She Loves Me. If I had seen that SLM was playing in the Pacific Northwest I would have probably gone. I was disappointed a few years ago when a road production of SLM was coming to Tacoma and canceled. The musical is based on the movie, which was based on the play, Shop Around the Corner starring Margaret Sullivan and Jimmy Stewart. The movie was later remade as a musical in In the Good Old Summertime starring Van Johnson and Judy Garland. The musical came out in the late sixties or early seventies. I have a copy of the sheet music, the cassette and the album of the original Broadway cast. I would love to see Anna again in a local production.
There is a great contrast between mother and daughter. Priscilla has frosted, light brown hair while Anna has dark brown hair. Priscilla is tall, thin and elegant. Anna is taller and more robust. Both move gracefully and are completely in their element on stage.
Both mother and daughter have different approaches to their parts. Anna is a quick study and learns her part in an instant. I think Priscilla is both proud and jealous of Anna's ability. Priscilla learns her parts more slowly. There is no right way to learn a part. It's an individual approach and, judging by the results, both methods work.
Pricilla had years of experience in Ashland, Oregon and the Shakespeare festival there. As a teenager, Anna got a job as an usher and stayed in the theater during every performance. She comes by her acting obsession genetically. In Ashland they both enjoyed working with Pat Patton there (now TAG's new Artistic Director), as well as worked with Kamella Tate, the director of Quilters and TAG's Outreach Coordinator.
Both actresses have other jobs. Priscilla is the wellness coordinator with Washington Mutual Bank. She doesn't act as much as she used to, but still enjoys performing. Quilters was a chance to act and to perform with Anna. she jumped at it.
Anna's daytime job is as a researcher in a state research unit for children's issues. Before she was hired she made it plain that she would be acting in her time off. Her boss is happy to arrange her time off.
The Saturday evening production at TAG had nearly 25 per cent of the seats open. The people who stayed home didn't know what an enjoyable experience it would be. Peg had to choke back some tears during the sad parts, but she really enjoyed the singing, especially the gospel number. Evidently, the night before Easter is not a sought after performance time. Peg and I enjoyed the play, the actresses, the music, visiting with friends at the Theatre and the quilts displayed in the lobby.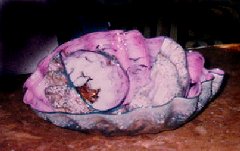 Back at the Sheraton we took the elevator to the fourth floor and looked down on the lobby. Someone was playing the grand piano. The Espresso bar was closed so we only listened for a while. The lobby of the Sheraton is done in the same rich colors with an emphasis on red and gold. The chairs are comfortable, the art is nice (the glass art is Dale Chihuly inspired, but at thousands of dollars a piece, I doubt it was done by him since it was just sitting on a table) and the music from a grand piano is soothing. Everything was just right. We started to wind down from our busy adventure.
Back in our room, the view was waiting. Peg and I sat at the dining table, held hands, looked out on Tacoma after dark and thought about our stay in downtown Tacoma. It was nice meeting and talking with Charlie . . . it was even better eating his food. We met other nice people (some new and some we already knew), and saw a great performance at Tacoma Actors Guild. We also viewed artistic experiences and took the time to discuss them. What a wonderful home town and what a wonderful adventure.
---
Note: Since this adventure was written, Peg and I have acquired our own Dale Chihuly original artwork and Charlie McManus has moved on to his own restaurant, Primo Grill, which offers a great grilled food . . . as you would expect from Chef Charlie McManus. Altezzo continues to offer excellent food with a new chef, Chef James "Jim" P. Barbara. But, even with changes Tacoma has continued to expand its great artistic and culinary offerings downtown, and remains a friendly place to visit.