You don't have to travel around the world to have an adventure. Fun and excitement are waiting for you right here in the Pacific Northwest. There are places to go, things to do, and people to see! Join us as we regularly travel from Oregon to British Columbia and in between for the Tacoma Weekly On-Line. This Web site has about two dozen photographs and graphic images which may take a while to load, but you can begin reading immediately.
Our Seattle Adventure began with a detour. We had Sunday brunch reservations at Salty's on Alki Beach for eleven forty-five. About eleven thirty-five we were on the West Seattle Bridge. The Harbor Island exit was closed. We continued up Admiral Way and turned right onto California. We eventually came to a small park. A barricade sign stated "For local access only." I did the hardest thing possible for a man to do. I consulted a map. It looked like the local access road should lead to Harbor Drive; it did. On the access road we had a nice close-up look at mudslides with clearing-still-in-the-process from previous rainstorms which encroached on sidewalks and street.
We walked into Salty's at eleven forty-five.
Cheerfully greeted at the door by a hostess, we were asked to take a seat for a minute or two. Peg and I amused ourselves looking at live crabs and lobsters in holding tanks by the front windows. We scanned the art on the walls and Peg looked in awe at a huge lobster mounted on a plaque. That baby must have had a tail to tell, well, okay, "a whale of a tale" to tell.
Soon we were ushered into the dining area and seated in a booth by the window. Every table has a beautiful water view of Seattle. Our waitress was friendly, brown-haired Karla. She took our orange juice and coffee orders. The juice, pulpy and fresh-squeezed, served with ice in delicate wine goblets, never stopped coming. Karla explained about the brunch and pointed to the buffet area, "The meat dishes are on your right; egg and pasta dishes and fresh oysters on the half shell are on your left; crepes and waffles in the back; bread is in the middle and desserts are in the back. Take a clean dish each time you want more food."
I counted the table space of food displays. I'm guessing there were more than one hundred feet of food available. I made it less than ten feet on my first pass. I chose link sausage (cut into one inch pieces), bacon, country potatoes, biscuit and gravy, cold, baked salmon, and two chunks of pineapple.
The brunch-eating people at Salty's showed a good cross-section of Seattle's diverse population. A Chinese lady goosed me with her purse as I waited for someone in front of me to make their food selection. It looked like everyone in attendance was comfortable and having fun. Some were dressed in their Sunday finery. Some were casual diners. There were lots of kids from babes-in-arms up as well as family celebrations with presents.
Back at my table I began eating. Karla replenished my coffee constantly. Everything tasted good. The biscuit and gravy was excellent. I would have gone back for seconds, if there hadn't been so much more to try.
Peg went straight for the goodies, trying the poached shrimp, citrus glazed chicken, cracked crab and freshly tossed tortelini in garlic cream sauce with capers, pesto and sun-dried tomatoes.
On the second trip I helped myself to two slices of a salmon mixture covered with puff pastry/fila dough. I also had a mushroom and chicken crepe prepared for me while I looked over the desserts. Walking past the bread tables I spied sliced mini-bagels with lox and cream cheese and added one to my plate.
Back at my table I took a bite of the puff pastry. A tear came to my eye. With a second bite, I wept openly. I cried for all those people in the mid-west who've never tasted any salmon other than canned pink salmon. I started to devise a plot to purloin puff pastry and send it to my relatives in the old country. . . Missouri. After a third bite I stood up and shouted, "Forget them, this is mine!" People ignored me and I kept eating.
My puff pastry didn't last long. The chicken and mushroom crepe was tasty, tasty, tasty. The lox was gone in one bite. I headed back to the desserts.
I chose a piece of German chocolate mocha cake, chocolate-raspberry torte and a parfait glass of white chocolate mousse with a raspberry puree topping. Peggy tried black bottom pie and some narrow slices of cheese cakes.
The white chocolate mousse stopped me in my tracks. It was that good. I took two bites and then tried the other desserts on my plate. I slid the mousse over to Peg. She took a bite and looked at me. I recognized the starry-eyed look. She, too, thought the mousse delightful. She also particularly enjoyed the German chocolate mocha cake because the mocha was so rich and delicious and not at all like the hackneyed grocery store syrupped German chocolate cakes.
We finished eating and sat in a stupor for a while, drinking juice and coffee. We admired the view and did some people watching. A young toddler, holding two helium-filled Salty balloons, shyly looked around at me as she walked barefoot up and down the carpeted stairs to her parent's seating area. A thin blonde woman in her early sixties walked by in a starched denim blouse with matching pleated, denim skirt. The long skirt stopped short of her tooled, oxblood western boots. She had a pleasant smile and a full plate. The diners came and went. I heard a loud , "Whew!" A man in his late twenties wiped a hand over his forehead and ran his fingers through his light brown hair as he prepared to leave. I felt the same way.
We reviewed our favorites. The biscuits and gravy, salmon puff pastry, the mushroom-chicken crepe, and the white chocolate mousse were all at the top of my list. Peg added the tortelini with capers, pesto and dried tomatoes.
Salty's was a good choice to begin our adventure. Art hangs, stands and perches everywhere at Salty's. Sporting a fishing and sea motif, Salty's has framed collections of lures, huge model ships, ceramic fish, fish-figured tiles, posters, and water colors everywhere there isn't a marine view. Giant hooks and lures even hang from the ceiling.
After our hearty brunch we drove into Seattle, turned our car over to the valet and checked into the Hotel Vintage Park. The transformation from the busy streets of Seattle to a warm, comfortable and friendly atmosphere is done quickly. In less than two or three minutes we were checked in and on our way to our room. In the elevator Peggy pointed out artist Ann White's black and white checkerboard prints, hanging on opposite walls.
Each room at the Hotel Vintage Park is dedicated to a particular winery. Our's was named after the Rich Passage Winery located on Bainbridge Island.
Our Rich Passage Winery room was on the eleventh floor which overlooked the court yard of the King County Court House.
The hallway from our door into the room features a matted and framed article on the wall about the winery and its owners John and Linda Owen and their passion for home-made, hand-made wine. There's a nice photograph of the Owenses, their daughter Lindsey and their English sheep dog. The Owens won a national amateur wine making contest in 1985 and have been making and selling wine ever since. Each evening, except Sunday, the Hotel Vintage Park offers a complimentary wine tasting party in the lobby.
Rich wine colors turn up everywhere at the Vintage Park. Our drapes, bed comforter and canopy all have patterns featuring rich burgundy and gold wine colors. The love seat and easy chair where rose colored, as was the wall fabric in the bathroom. Even with all the deep, rich colors, though, the room wasn't dark. The exterior wall had three separate windows with curtains and drapes that could be closed for privacy or pulled open to let in more light.
I've been to many hotels where the lighting was inadequate for reading and writing. Peggy and I at times have had to wrestle to see who would get the side of the bed with the table lamp. I'm a gentleman. . . ticklish, and I go to sleep earlier, so she usually wins. Our room had four table lamps, one on each side of the bed, one at a writing table, and one that sat on an end table between the easy chair and the loveseat. At the other end of the love seat stands a floor lamp. Each lamp is a three-way lamp so adjusting the amount of the light in the room is strictly a personal choice.
After unpacking, Peggy decided to walk to the Seattle Art Museum. Kirk, our concierge, gave her a map and showed her the way. I changed into some comfortable cotton shorts and turned on the television. I read copies of three Seattle centered magazines that were fanned out on the end table while I flipped channels between reruns on KONG-TV and the Superbowl. I saw two Denver touchdowns and a complete segment of Banacek starring George Peppard. After Banacek I tuned into the Superbowl for the rest of the game. Peg came back near the end of the game. She had taken a cab back from the art museum for five dollars, including tip. A few minutes after she came back to the room, Kirk brought her a can of Sprite. She asked him about two other museums' hours of operation. Kirk said he would find out for her and within minutes, he called with the information. Peggy really appreciates the concierge concept in hotels. They iron out the difficulties and find out things for you.
Peggy loved the Seattle Art Museum. There wasn't a special exhibit then because the Leichester Codex (Leonardo da Vinci) exhibit had just been taken down. But the small traveling and permanent exhibits were worth seeing. Elizabeth Peyton had a solo exhibit of her small oil paintings that seemed to be glowing around the spare, large, white-walled room like cloisonné brooches. Her subjects were mostly fallen rock stars, artists she knows and Ludwig II of Bavaria; an eclectic collection.
Another exhibit was Objects, by glass artist Richard Marquis. He had small, exquisite, nonfunctional glass teapots along with other objects, some covered in patchwork-like squares of patterns. Peg says, "His glass, because of its contrast of opacity and translucence, seems to hold and contain light, letting it shine out in controlled bands."
Peggy meandered through the permanent collection rooms, looking for and sketching a favorite Korean celadon ceramic vase with an asymmetrical design, as well as a Persian manuscript with its poetic layout.
After the game I took a relaxing, hot bath. I emerged from the bathroom just in time for dinner. We ordered out for a Greek pizza from Romios. It was delivered in less than thirty minutes and was worth the wait. It featured several meats, lots of veggies and goat cheese on a whole wheat crust. It was excellent.
When I ordered the pizza I had to give the address of the hotel because the person taking the order had never heard of it. The Hotel Vintage Park has to be one of the best kept secrets in Seattle. When I looked through the Seattle magazines, I noticed there were only two mentions of the hotel, and both of them were in conjunction with the hotel restaurant, Tulio. I saw a tiny photograph of the Seattle Concierge Guild. I asked Kirk if he were in it. He said, "No. I've only been on the job for about two weeks."
The next morning I got up about seven and went for a walk. There were lots of people on the sidewalks. At the crosswalks I noticed that I was always a step behind everyone as the "walk" light came on. Seattle people step off the curb before the walk signal comes on. I soon caught on to the timing and now I jump-start crossings, just like a Seattle-ite.
I began looking for a coffee shop, even though I knew that I could drink coffee for free at the hotel. There are coffee shops every where in Seattle. On one short block there were four stores and three of them were coffee shops. I chose LavAzza because I just liked its looks. The large mocha was sweet and chocolatey. I sat down at the counter by the window so that I could watch the people.
I put my Nanci Griffith 1997 tour cap (a souvenir from Nanci's Seattle performance in November)on the counter and was surprised by the fresh cut flowers nearby. The flowers and vase sat beneath a nicely framed Italian print. Flowers and art everywhere! Looking out the window I noticed a woman walking with a large rectangular, brown woven basket of flowers.
I walked back to the Hotel Vintage Park and sat down in a comfortable chair in the lobby. The table next to me had a vase with fresh-cut yellow and red tulips. Separating the information desk from the lobby was a library table with a huge spray of flowers. Flowers add both cheerfulness and color. It's a pleasure to see them in such profusion.
I sat in the lobby for about forty-five minutes. The Hotel Vintage Park describes the lobby as intimate; I agree. There is a fireplace flanked on both sides by dark wood shelves, each containing a few hardbound books with tooled spines. The books make the lobby look like an old English library. I investigated. One grouping of books contained about ten volumes of the Funk & Wagnels 1972 Encyclopedia. Another group contained several volumes of a 1960s edition of the Illustrated World Encyclopedia. Not particularly good reading, but they look nice - a case of style over dated substance.
To the right of the fireplace, three large, silver urns provided self-serve coffee, decaf, and hot water for tea. Half & half in a pitcher stood nearby. There was a nice selection of tea and sweeteners as well. I helped myself to the coffee and some half and half as I read my complimentary copy of USA Today and the Seattle Weekly.
A forty-ish fellow in a dark gray business suite came in and sat down on a sofa. He had a sample case type briefcase. Even though the lobby is intimate, he was a little too far away to join in a conversation. He was joined by another forty-ish man in a dark gray business suit. This man had a goatee and a sample case. Soon, they were joined by another suited clone. This one wore a full beard. Finally, the group grew by a thirty-ish man. He was dressed the same and carried a sample case. With the enlarged gathering I was able to hear parts of their conversation. I picked up the words "immer" and "nicht" so I gathered they were Germans. They gave the hotel a nice international flavor.
I fantasized about the Germans. Were they here for a meeting at Microsoft? Were they touring Boeing for Lufthansa? Were they sausage salesmen? I finally came up with the best overall solution. I think they hire themselves out to the fine hotels in downtown Seattle. One by one they drift into the lobbies, speaking German and looking European. They're like the books on the library shelf. They were "styling." They were there for effect. I came up with that theory the next day after watching a group of Japanese businessmen and their wives wait for the valet to deliver their cars. After listening to their conversations I knew they were actually Americans. The women were in charge. They never spoke Japanese. They spoke English with no accents. Obviously, they weren't as well rehearsed as the Germans.
After the Germans left the lobby on their way to the Alexis, I poured a cup and chose an apple-spice tea for Peggy and went up to our hotel room. It was a little after nine by now. Peggy was disappointed that I hadn't brought her back a pastry for breakfast but I suggested she eat a piece of left-over pizza. As we munched on our pizza I called Al Burrage, a friend of ours from West Seattle who usually has time on his hands. I invited him to join us. He had a sales call to make and since Peggy and I were going to the Burke Museum of Natural History and then to Archie McPhee we decided to meet at Archie's around noon.
We drove to the campus of the University of Washington. I dropped Peggy off beside the totem poles which stand guard outside the museum. I bought a parking permit and found a parking slot. Peg and I bought our entrance tickets and started on our own tour of the natural history museum. It was fun to see all the school groups ebbing and flowing around the exhibits, shepherded by teachers and volunteers.
The Burke features an exhibit of Washington state's history, from before dinosaurs to the present. I particularly liked the reconstructed ice age saber-tooth tiger and its prey, the giant sloth (excavated at Sea-Tac during construction). The only real trouble with the exhibits is that they cry out for touching, but you're not allowed to. It was obvious the school kids were having problems with this as the alarms went off frequently.
There was also an exhibit in the basement delineating the different cultures that make up Washington state's population. You are greeted as you walk in by a monitor showing changing scenes with one population group after another greeting you in a native dress and tongue, fortunately with subtitles. Peggy enjoyed the glimpses into different ways of life.
The Burke also had a beautiful photography exhibit of Washington state's biodiversity, mounted by the Nature Conservancy. Several photos of lupines caught Peg's eye because she and our granddaughter, Bunky, always look for lupines in the spring meadows of southwestern Washington.
Tuesday morning we visited the Seattle Asian Art Museum at Volunteer Park. Bigger than life-size reproductions of Chinese camels recline outside the entrance to the museum. The museum has everything from bridle bits to wearing apparel.
I fell in love with a 14th century wood carving. I came back to it twice. It features a Buddhist priest sitting on a stump of wood. The statue captures the exact moment of enlightenment.
The priest is turning and looking up. A portion of his robe is suspended delicately by the wind of movement. The wooden artwork in done in about 3/4 scale. Shadows play over the carving giving it detail, substance and action. It's a light and depth situation. The priest has been caught in a philosophical double-take. I nicknamed him Kramer.
After visiting the Burke we made our way west to Archie McPhee, past the University District and Wallingford, commenting that these are also places that offer an interesting day's ramble. Archie's is easy to spot on Stone Way, just look for the frilled lizard head that comes out of the wall over the door.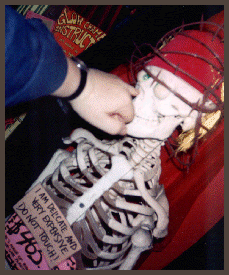 Archie's is a fun place to be a kid again. There are so many cheap, plastic toys, expensive plastic toys and just plain weird things that you don't have to spend more than a few dollars to find the perfect item to surprise and amuse your friends, and especially, your children who think they are grown up (but we know better.) A personal favorite is the potato gun.
The potato gun cost less than three dollars and lasts forever. With it you can shoot pieces of potato (or zucchini or rutabaga or jicima or any other firm vegetable) nearly seventy-five feet. (We gave the daughter of a friend one for a high school graduation present along with a book of joyful quotations. She wrote a proper thank you letter, announcing that she will surely find many uses for the potato gun in her future life.) Another favorite is the boxing nun puppet. This time through we bought a boxing boxer dog puppet and some wooden geegaws. Al Burrage joined us late and didn't buy anything.
We went across the street to the Pacific Inn Pub for lunch where they made fun of us because Peggy was carrying our bag'o wonders from Archie's. The Pacific Inn is an extremely friendly place for beer and food. My mother wouldn't eat there, but we enjoyed it. Looking over the menu, the World Famous Fish 'n Chips caught my eye. I asked Dave, the waiter, "What makes them World Famous?" He gave me a rambling story about how former Governor Mike Lowry had gone to England and told everyone there that Seattle had better fish 'n chips than they did. Mike specifically mentioned the Pacific Inn Pub. I looked dubiously at Dave and then he said, "Okay, it's not really true, but Mike used to come in here for a cheeseburger." "So," I asked, again, "Why are they World Famous Fish 'n Chips?" Dave yelled for help, "These guys are giving me a hard time here." Stacey, the owner, shouted from the far end of the bar, "They're famous 'cause they're just so good."
I ordered the fish and chips. They were good, but it's like I tell people, "As an author, in parts of Canada, I'm world famous." I prefer the fish 'n chips at Katie Downs on Tacoma's Ruston Way waterfront and the Spar Tavern in Tacoma's Old Town. The Spar's chips are especially good, too, because they have freshly home-made, thickly cut potato chips in addition to traditional fries. But still the Pacific Inn Pub is a fun place to hoist a few. Peg enjoyed a BLT and zucchini spears, having been steered away from the pan fried oysters by Dave, "No, don't get those. They're not fresh." Doesn't take her long to change her mind with qualitative information like that available.
After returning to the Hotel Vintage Park, we took a leisurely stroll down to the University of Washington Bookstore, about two blocks away. Peg loves book stores; she claims they are an occasion of financial sin for her although she did restrain herself there. She only bought one book, Time Cat, about a time traveling cat, for our granddaughter Bunky. Peg's enjoying it and will mail it to Bunky when she finishes it. It's a good gift for her since she gave Peg copies of Harriet the Spy and The Midwife's Apprentice for Christmas. The girl knows a good book when she reads it. This particular UW bookstore seemed to concentrate on computer/internet books and I was in hog heaven and noted a few books I will purchase, later. It was a good book store, but not a great book store. We couldn't find any of our books on the shelves there.
That evening came the highlight of our adventure, dinner at Tulio Ristorante, the hotel restaurant, hosted by chef Walter Pisano. We had reservations for six o'clock. There were maybe only a third of the tables in use at that time. Since the Hotel Vintage Park offers a free evening wine tasting party from six to seven, I figured at six o'clock most of the hotel guests would be sampling wine. We were seated quickly in a booth by the window.
Peg and I took our time going over the menu. Since we hadn't talked to Walter himself we were unsure that he would actually be there. We talked with Greg, our waiter, who answered several menu selection questions and then ordered appetizers. Within a minute we saw Walter talking to some regular customers a few tables away. After exchanging greetings with them he came over and introduced himself. We had asked for ten or fifteen minutes of his time. Peg slid over and we invited Walter to join us at the table. We spent the next two hours reveling in Chef Pisano's wonderful food, philosophy of food and entertaining stories.
Walter grew up on the east coast. He came west first to work at Sun Valley, Idaho. Then he moved to Washington, DC where he trained under Jean Louis at the Watergate. The Hotel Vintage Park opened in 1992. Walter was hired about six months before the opening. He has been supervising the restaurant's operation ever since.
When I asked Walter about why he chose Northern Italian cuisine (which I had read about in the magazine literature), he laughed and said, "Is that what it says?" You won't find deep red sauces at Tulio, which are more identifiable as southern or Neapolitan Italian cooking used at most Italian restaurants, but the food is not necessarily northern. What Walter does is use traditional Italian seasonings with local ingredients like cheese from Duval and lamb from Ellensburg and lots of seafood. One of his favorite sources for fish is Queen Anne Thriftway. He likes their selection and freshness. Walter is very concerned about both selection and freshness in all aspects of Tulio from vegetables to spices. All breads, desserts and sauces are made in the kitchen. You won't find much in the freezer at Tulio.
The restaurant's name, Tulio, came from his father, John Tulio Pisano. His father, who was born in Brooklyn, spent years in the restaurant business on the east coast and now lives in Seattle, also. He comes over to help out on a regular basis. Walter jokes about his father's ability to meet people. His dad will ask him about someone who lives in the apartment building and Walter will reply, "Dad, I work." John occasionally puts his experience to use at Tulio. Even though he's seventy-four, he still loves meeting, greeting and helping people. Bursting with pride Walter told us that John gets a letter of appreciation almost every time he helps with private parties. I think that much of the warmth and charm that Walter attributes to his dad is found in Walter, too.
Walter told us some of his philosophy about food and presentation. First of all, it's food and shouldn't be confused with a painting, but still it needs to be exquisitely fresh and imaginatively prepared. The intuition and knowledge gained by 20 years in the restaurant business shows in the choices he makes. Walter chatted with us, giving us some friendly gossip about regional and international chefs, restaurants and cookbook writers. He's met most of them. He has plans to write his own cookbook someday.
Walter loves food and does most of the cooking at home. His wife doesn't want to compete. He has a well stocked kitchen with all the needed utensils and pots. Walter says the hardest things about being a chef are visiting friends and other restaurants. He said that a friend served jambalaya at a Superbowl party and apologized because he thought it wasn't thick enough or spicy. Walter says, he's just thrilled to have a home cooked meal that he's not concerned with fancy preparations. I think if you invited Walter to dinner he would be overjoyed if you just served his favorite home cooked meal -- plain, everyday pot roast.
When Walter visits restaurants, operated by his chef friends, he has a hard time eating just a little. He figures if he's going to go to their restaurant on Thursday, he best not eat on Wednesday or Friday. It's a matter of, "You have to try this. . ." I don't know, but that sounds like heaven to me.
There were two questions I was dying to ask. The first was, "Have you seen the feature film The Big Night? The 1997 movie tells of a special Italian dinner being prepared at a New York Italian restaurant. Walter had loved it. His dad had seen it and thought it was okay. Walter explained, "My dad likes Francis Ford Coppola." He would have liked it more if their had been shooting and the mob in it. The other question I had was whether or not Walter had seen the British sit-com Chef, starring Lenny Henry as a chef at an English hotel. Walter owns a set of the video taped episodes.
Later, Walter told us the advice he gives aspiring, young cooks. He suggests they find a chef they admire and go to work for them. He says, "Work for free if you have to." I said, "That was an episode from Chef." Walter laughed. Walter gave us the story line about a young man who offered to work for free and cooked a dinner at Chef's home. Chef sampled everything and declared it, "God awful."
Believe me, the food at Tulio is anything but God awful. When our appetizers arrived Walter explained how each was prepared. He served Peg and me. Walter sent back one plate, because he already had an idea of what he wanted us to try, which was certainly fine with us. What stayed on the table was fresh asparagus, steamed and wrapped in leek leaves and prosciutto, and an order of baccala. The asparagus was firm, crisp and wonderful, but I left a few on my plate as I moved on to the next selection. Walter explained how baccala, salt cod, is soaked, ground and added to mashed potatoes and leeks to form a small fish cake that is sautéed to a light, crusty brown and served on crispy flat bread. You'll never see them at McDonald's, but I could eat a whole bunch of the golden brown nuggets.
Next, I had a bowl of linguine and mussels. In all my samplings, I tried to eat enough to seem appreciative without stuffing myself like a pig. It was a difficult job to do. The mussels melted in my mouth. The linguine had a broth with garlic, hot pepper, lemon & olive oil. If I had been at home, I would have slurped it from the bowl. At Tulio I handed it to Peg in exchange for her plate with a large, smoked salmon and cheese filled ravioli. I don't know who got the better of the deal.
Next came wood baked salmon with a topping of ground almonds, dried tomatoes and spices. Knowing that Peg loves salmon as much as I love pork, I tried to limit my bites to half of the salmon.
That was hard, really hard, but Peg had pepper crusted roast loin of pork to trade for. The pork was accompanied by fennel gratin and a VinSanto sauce. (I inhaled the pork and would have dipped bread in the sauce, but refrained.) I was hoping that I would be able to eat all of the pork AND get some of the salmon back. Yeah, like that was going to happen.
Walter asked, "Do you have something in particular you'd like for dessert, or should we just prepare a few things?" The job was Walter's. A plate was brought with a hazelnut torte, tiramisu, and my personal favorite, a ricotta cheesecake like confection. Walter explained that quite a few people want cheesecake, so he created his ricotta version. It worked for me. Walter finally excused himself at a little after eight. He had been with us for two hours (it seemed like minutes), but he had been at the restaurant since seven-thirty that morning.
After Walter left, we realized that the restaurant was full of people busily talking and enjoying their food. We had been so engrossed in our own table talk that I hadn't noticed the restaurant filling up. And this was on a Monday night, yet! I took my spoon and scooped up a whole hazelnut still sitting in a small pool of sweet cream sauce on the dessert plate and sighed. Peg and I had a great meal and a warm memorable evening.
Our Seattle Adventure contains memories that will last our lifetime. We met some very nice people. We experienced great art. We ate some excellent food. We laughed a lot. We had fun.
Thank you, Seattle.
--Don and Peggy Doman
---