Northwest Adventures
Northwest Adventures | Northwest Restaurant Reviews
Safe Travel Tips | Travel Links | Travel Videos | Vacation Adventures
The Radisson Hotel
Seattle-Tacoma International Airport Adventure
by Don and Peg Doman
Many people end up staying at hotels near the airport when flights are cancelled. They are usually not happy about their stays. Other people stay at hotels near airports because they are just looking for someplace to stay after they land or before they take off. They are usually not happy about their stays. Our adventure at the Radisson Hotel across from Seattle-Tacoma International Airport (oftern referred to as Sea-Tac) began when a client from California objected to his accommodations. The Radisson offered him a gift certificate for a free one-day weekend stay with breakfast for two. He took the certificate and went on into Seattle to another hotel. He gave me the gift certificate. Peg and I didn't know what to expect, but we are always prepared for an adventure. What a pleasant surprise. Although we normally like to talk to fellow guests, the chef if possible along with waiters and other help staff we had a great time. A two day stay is very nice and relaxing. A one-day stay just seems a little rushed.
The adventure got rolling when Peg's sister, Pat, called after seeing a restaurant review in The News Tribune for Alt Heidelberg. This German restaurant had been a fixture at Tacoma's Freighthouse Square for years before closing. All three of us were happy to see that it took on a new life about seventy blocks away in a small neighborhood shopping district near St. Ann's Catholic School. Both Peg and Pat graduated high school in Germany where their Air Force veteran father was assigned. They appreciate good German food. I appreciate good food, no matter what country it's from.
Pat and Peg ordered the jaegerschnitzel with spatzle (handmade little dumplings), while I ordered the Hungarian Goulash with spatzle and a "brat" on the side. After we ordered, my friend John Eisenhauer joined us. John and I have dined many times on food from Freighthouse Square. John ordered a couple bratwursts and German Potato Salad. He was on lunch break from Amtrak, where unfortunately there were no trains running until late in the afternoon (the result of rain and flooding). The women were a little dismayed at the thick dark-brown gravy ladled over the spatzle. It was served steaming hot and I thought it tasty, but I did wonder why it was the same gravy on both dishes. There should have been lots of peppers and paprika on the goulash, but I don't recall any peppers nor a taste of paprika. I enjoyed my brat served with mustard and red cabbage. John held his own counsel and took a doggie bag back to the train depot. With floods and landslides, you never know when you will be able to leave for home and nice little care package of ethnic food hits the spot late at night. I really enjoyed the spatzle and the brat and the red cabbage. I think we will return. While we were dining another friend opened the door and looked in. All four tables of the small German restaurant were taken. She turned around and left.
Deborah Pittman is a friend of Peg's from the Tacoma Calligraphy Guild. She is a friend of mine from the Tacoma Executive's Association. When Deborah poked her head in the door I knew exactly where to find her. Her framing store is just a few feet away from Alt Heidelberg in the same small shopping center. Deborah says, "I frequently eat there when I forget to bring a lunch." Deborah frames and mats artwork. She refused to let me take a photograph, however. She thought her shop looked cluttered. It looked full of interesting frames and art, but not cluttered. We all four talked for a while and then Peg and Pat and I excused ourselves and Peg and I drove Pat home.
After dropping Pat off we stopped by home and picked up essentials for the adventure: Peg's pillow, my reading glasses, two good books to read (her's and mine), notebooks, journals, toiletries, and changes of clothes.
We checked into the Radisson and went to our room. We were more than pleasantly surprized. The room was spacious and well laid-out with a small desk with a table lamp, a room divider, a TV, and lots of pillows on the bed. I sat on the bed and noticed instructions with a Sleep Number control. My side of the bed was programmed for "95" firmness. I adjusted it to "100." Later after a nap from which I woke up with a sore knee, I adjusted the firmness down to "85." That seemed to be perfect for me. Lindsay Wagner would be so happy for me. I often joke about her commercials on TV. I may have to cut those out, now. Later when Peg laid down, I adjusted her side down to a firmness of "55." We could have mixed it up by laying cross-ways on the bed, but why mess with something that felt so cozy and comfortable. I was impressed.
In packing, I had been a little irritated with myself, because I could not find my little traveling bag with bedside lamps. We feel that one of the great sins of hotels is not having adequate lighting for reading in bed, nor most places in the room. I could have saved my irritation for my next adventure. There was nothing to worry about. Our kingsize bed had built in lamps on either side that were more than bright enough to read by. Also, there was an easy chair with a floor lamp behind it. As I watched football on the TV, Peg sat in her easy-chair and read . . . it was just like home.
Right after checking in, Peg and I scouted out the local restaurants within easy driving distance of the Radisson. There was a bar called Roasters, a Shari's, and a Jack in the Box. Dave's Diner looked interesting, but a little expensive for the venue. The diner had a fifties motiff and offered mostly burgers. We passed and decided if we were hungry later we would venture next door to the Radisson to Gregory's Bar and Grill.
As we stepped off the elevator we checked out the pop machine. I smiled with when I saw they had caffeine-free Sprite and Minute Maid Lemonade. Nice attention to the wants of guests. So many times hotels only offer the standard colas and an orange soda. Here we had a worthwhile selection.
When we felt like eating we went downstairs and stopped at the Radisson lounge and never left. We sat at a table for four and faced the TV, which was placed above a gas fireplace in what looked like a manor library. Over a couple of beers I watched a playoff game as Peg looked through shelves of books.
Our waiter was helpful, but asked not to have his photograph taken. We sat and watched mostly families come through the lobby. All the staff seemed friendly. We also noted that good looking art was everywhere. It was a pleasure, to sit and look around. It felt like we were in a nice home where we were welcome friends.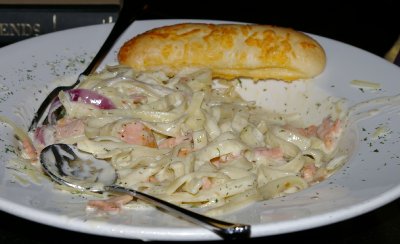 Looking over the menu, we decided to share a plate of smoked salmon fettucini. What a great choice. There were two breadsticks and loads of salmon. The fettucini wasn't overly covered in whitesauce. Pieces of perfectly cooked red onions were mixed in. It was excellent. What made it even better was our waiter who accommodated with a second plate at no extra service charge. For dessert we had the apple cobbler and the berry shortcake. We should have called it quits with the salmon. The desserts were a little too sweet and we were too full anyway. With our fettucini our Miller Chills were perfect. Peg picked up her book on the table she had chosen from the shelves and we went back upstairs. Peg read in her chair and I watched TV and napped.
In the bathroom I found a mock-up of the Starship Enterprise disguised as a shower nozzle. After a little early evening sleep I took a shower. A natural complaint from people my height (just over six feet) is that the waters from showers hit us somewhere between the chest and the belly leaving a third of our body dry or contorted trying to suds up and rinse.
With the Starship Enterprise, the wings stood well above my head. At my "make it so" command little pinheads on the lower deck jetted water down upon me. It was a pleasure washing my hair and showering. Afterwards I went back to bed and alternated between reading and sleeping for the rest of the night until I finished my book, A Spoonfull of Poison, an Agatha Raisin mystery featuring life in the Cotswolds in Southwest England. The book was an enjoyable diversion. Pat bought the book and passed it on to Peg who gave it to me for the weekend.
The next morning I made coffee in the bathroom coffee maker and made notes to myself about a book proposal for my publisher. At nine I woke Peg. I told her what I was thinking about for my next small business book. We shared ideas and then we both dressed for breakfast. Our gift certificate came with two buffet breakfasts.
Downstairs in the dining room we sat down and our waiter brought us coffee and juice. In Tacoma we usually order a combination of cranberry and orange juice. Our waiter brought us a glass of each. He must not have understood our request. I decided to mix it myself and spilled a little bit on the table. Although breakfast had been served since five and we were in the dining room at nearly ten, I half expected dried up food. Not so. I passed on granola, which had a lot of my favorite condiments and moved past what I thought was the melon selections. I went to the scrambled eggs and was well pleased to find them moist and appetizing. I took a small amount of Potatoes O'Brien just in case they turned out tasty and then helped myself to the sausage and bacon. Going back through the line I chose a muffin and then added some Cheddar and Jack cheese and freshly chopped red and green peppers to my eggs. Leaving, I noticed that what I thought was watermellon, was actually pink grapefruit sections. I was in heaven.
The food was delicious. One time through the food line was enough. The eggs were perfect, the potatoes excellent, the sausage and bacon were ideal. I saved the grapefruit until last. The sections, minus the membranes, were absolutely wonderful. I had another glass of just orange juice and then Peg and I sat and drank our coffee with cream and raw sugar. As we sat stupified, I wanted to go back upstairs and take a mid-morning nap, but unfortunately, we only had a one-day stay at the Radisson. It wasn't enough. We finished our coffee and went back to our room. We gathered our belongings and left to begin our short trip home back to Tacoma (about fifteen miles). Seattle-Tacoma International Airport is located midway between Seattle and Tacoma.
I am sorry that my client didn't like the Radisson, but I am glad he complained. He mentioned facing the airport and hearing street noise and air traffic. I think he must be a little too sensitive. We faced the busy street and had a nice view of the airport entrance. What noise? Peg and I found no faults as we enjoyed the hotel, our stay, dinner and breakfast.
Some people take things from hotels: towels, bathrobes, soap, etc. We almost felt guilty. Peg took home the book she pulled from the lounge shelves the night before. Although it was published in the 1980s, it looked like it had never been read. We couldn't leave it that way. Books are for reading, even it they have to be borrowed.