Ocean Shores - Northwest Adventures
Northwest Adventures/Index | Northwest Restaurant Reviews
Safe Travel Tips | Travel Links | Travel Videos | Vacation Adventures
Ocean Shores in December
by Don and Peg Doman
This adventure began months in advance when Rob and Vickie Erb invited several couples to join them for a time-share condo in Ocean Shores. They probably thought that one or two couples would fit it into their schedules. In the end five couples stayed in two condos over three nights and had a great time.
Since I was co-chair of the holiday program at Tacoma Rotary, I couldn't leave for Ocean Shores until after the program on Thursday afternoon. After the Rotary meeting we all rushed home to gather our luggage and bags and bags and bags of food for our trip. I also had photographs to shoot for my hair salon client, Benno of Germany, which was near Top Foods so we could add a few food items we had forgotten for our short adventure. An hour and a half drive brought us to our condos. After unpacking we settled in with the sunset glow of evening, which is similar to the sunrise glow of morning on the beach at Ocean Shores.
Moving in took several trips to the car even using the carts supplied by the condo. Our rooms were on the fourth floor, and there was an elevator, which gave us wonderful views of the ocean grasses, the beach and the waves to the west. From the walkways along the back of the building we could look east, out over the flat residential area between the beach and the local jetty. A little further east are the waters of North Bay and Grays Harbor. Driving to Ocean Shores from Tacoma by the most direct method means traveling through the towns of Aberdeen and Hoquium, which are cheek by jowl, or, side by side. The casual observer can't tell where one ends and the other begins. Once past Hoquium you drive past the mud flats of North Bay and then Highway 109 dips into the woods and vast amounts of what used to be woods. Clear cut tactics provide a good base for new trees and brush to begin life. This also provide new habitat for wildlife, but can be ugly none the less.
Moving in took so much effort, because we had plenty of food. We wanted to combine eating in and eating out. Donn loves to cook and his menu called for stir-fry on Thursday evening. Jan made the rice. Dinner was wonderful and went well with several wines. Afterwards we cleaned up and played a rousing game of Apples to Apples before heading to bed. Normally, we might have played Mexican Trains, but the "Mensa Select" game of Apples to Apples entertained us for all three nights. The second time through we saw a lot of repetition in the drawn cards.
Breakfast on Friday started with steel-cut Irish oatmeal, toast, jam, bacon, eggs, and orange juice and ended up (after clean-up) with a walk on the beach for the majority of group. Peg and I stayed home. Coffee and Bailey's Irish Cream laced with a little Carnation Chocolate Creamer kept me warm and comfortable.
Rob and Vickie were wanting to collect some driftwood for a fence in their yard. Donn and Debbie were just looking for whatever the waves dumped on the beach. Jan left Mike in the condo when she went on the walk. He had just broken his arm the day before we left. It was in a splint and sling, and though he's such a stoic, Mike was hurting. (He was running to the car to collect his towel so he could attend a workout at LA Fitness. He slipped and broke his elbow and a rib.) He was not his chipper self.
Running parallel to the long beach of Ocean Shores are dunes with waist-high grass. The grass is a great place for deer to bed down for the night. As we drove along the highway outside of Ocean Shores we saw critter crossing signs, but the only critters we saw were deer. They grazed on the grass between the north/south lanes of traffic. They grazed on either side of the road and they grazed between homes.
There are many lots for sale in Ocean Shores. Quite often those lots are covered by bracken or thickets, which stand well above a man's head and are impenetrable unless you have a chain saw and/or a machete. I don't know how deer handle a chainsaw, but they thrive in the Ocean Shores area.
When people in the Puget Sound area of Washington say they are going to the ocean, they mean Ocean Shores. There are condos, summer residences, camp grounds and Quinault Beach Resort, an Indian Casino and hotel. Peg and I have camped at Ocean Shores, stayed at various hotels, and the Quinault Casino. North of Ocean Shores is the Olympic Peninsula, which contains a rain forest, places to watch whales (Kalaloch), the town of Forks (with or without vampires), the beautiful Lake Crescent and finally Port Angeles, overseen by Hurricane Ridge, and Port Townsend which both of which face Canada. Much of the peninsula contains tribal lands as well as parks and the Olympia Mountains.
Ocean Shores is easy access from Seattle, Tacoma and Olympia. There is always something fun to do there and during the winter it's not crowded. For this trip we were constantly bundled up. Although it was just around freezing, the wind off the Pacific can be very chilling. Each morning the parking lots and roads were dusted with ice and snow, but were easily clear within an hour of sunrise.
Noting movie times at the local cinema we arrived in plenty of time to see a good adventure film, unfortunately films change on Friday and we were left with The Princess and the Frog. We all wanted to see it except for Rob. We all saw it. We all enjoyed it, although Rob never really wanted to admit that he enjoyed the children's fare. The music was great and the story was exellent. We left in a good mood and went directly to the liquor store. On the shopping list was Scotch to accompany cigars and Bailey's Irish Cream to accompany almost everything. Peg bought a nice bottle of grenache. The Baileys had to be replentished the next afternoon, but the next bottle came home with us unopened. We ran out of steam as the weekend went on.
After buying supplies our next stop was Galway Bay Irish Restaurant Pub and Gift Shop. Peg and I had eaten there before on an earlier adventure and really enjoyed ourselves. I knew that there was live entertainment on weekends, but didn't know what kind it was to be. All I knew was that the entertainers name was Dan Hausler. A quick look at the menu was good enough for most. The bartender stated that Dan knew all kinds of songs, but would probably play nothing written after 1985. Mostly, the men went into the pub and the women went into the gift shop. The walls of the pub and restaurant are covered with posters, newsclippings, and photographs of Ireland. Parts of the ceiling also contain Irish Tee-Shirts as well as Tees from various Fire Departments and other organizations. Irish beer signs are everywhere. There is even a small dining room with an exterior looking like the whitewashed field stone Irish home of John Wayne and Maureen O'Hara in The Quiet Man. The men fell in love with the decor of the pub and then had to join the women who had fallen in love with many items in the gift shop. One of Peg's favorites is the most extraordinary facsimile copy of the Book of Kells, the highly decorated and illuminated manuscript of the four gospels. It was probably made in the 8th century on the island of Iona, Scotland, and moved to Ireland in the early 9th century.
In the gift shop the men had to try on the different wool caps and hats, while the women ooohed and awed over the bracelets and charms. It was also interesting to look at the various CD offerings of Irish music, but Peg and I didn't see our favorite artist, Maura O'Connell. Rob and I looked over the selection of Irish DVDs and I listened to him quote from The Quiet Man time after time after time. It's a great film. We also didn't see The War of the Buttons, another charming and funny Irish movie.
We tried several places to buy a simple spiral bound notebook, but none could be found. Donn was craving ice cream, so we stopped into a small strip mall and he and I bought ice cream cones while Peg and Debbie went shopping. The women came back with DVD rentals (Paper Heart and Four Christmases) and triumphantly bearing a notebook for me. Back at the condo I considered writing down great thoughts in my new notebook, but instead chose an afternoon nap.
Cell phones are often great communication tools and sometimes not. One incoming call brought news that Sparky, neighborly visitor and the long time pet of Randy and Sue Lord, who traveled to Italy with our group, had to be put down (old age and arthritis). A second incoming call brought news of a broken pipe at Jan and Mike's home. Friend Rita Morkrid, who had been staying with Jan's mom Doris, had turned off the water while awaiting repairs. Sparky's death was a bummer for us all. The broken water pipe preoccupied the minds of Jan and Mike.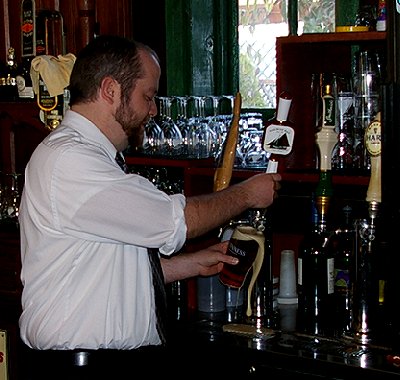 By the time dinner time rolled around we all needed some pepping up. We had reservations for Galway Bay. We arrived just a couple minutes late, but our table was waiting. The bartended was great. He suggested Harp and Guinness for a taste of Ireland. Mike was the only Guinness drinker while the rest of us drank Harp.
The soda bread was just as good as I remembered, although I must say, it was sweeter than I expected, almost like pound cake. Extra loaves were brought to our table along with many pats of butter. Several left over slices came back to the condo, only to disappear the next morning. Rob thought the bread was only okay, but then, what does he know.
I ordered the pan-fried oyster appetizer, while Peg had the crab cakes. For dinner I had a corned beef sandwich. It was very good, while Peg had the potato soup, also excellent, but much richer than the Friday night potato soup of her childhood. The oysters were wonderful. Next time, I'll get two orders of the oysters and be happy. People would have ordered the beef stew, which is really good at The Galway Bay, but that was on our homemade menu for Saturday night. Around the table people enjoyed Seafood Crumble, while Rob had a ten ounce steak, which he pronounced excellent.
The entertainment began as soon as we sat down. We appreciated the music and applauded appreciatively almost every number. Dan Hausler, the entertainer asked what our group was. We had already toasted ourselves once. We replied, "Friends and Friday." In the pub atmosphere Dan couldn't quite hear us and he repeated what he thought he heard, "Rancid Friday?" Actually, I kind of like his take on our name, but we corrected him.
During the evening we came up with half dozen requests and he knew almost all of them. After playing a Fats Waller tune, we asked for Yo Feets Too Big, another Fats Waller song. Dan answer back with one of the last lines of the song, "Your pedal extremities really are obnoxious." We all laughed. He sang several Kingston Trio songs (including Scotch and Soda, Peg's favorite) and we called it a night. We took up a collection from our table for his tip jar and left with a warm feeling. It had been a nice day in spite of the bad news, and a fantastic evening.
Saturday morning Debbie made her "world famous" sage biscuits with poached eggs and Hollandaise Sauce. Coupling the biscuits with two pounds of bacon made for an easy going day for most of us. However, Jan and Mike decided to opt out and return to Tacoma to take care of the broken pipe. They had gift wrapping party planned for Sunday afternoon, and the wanted to make sure everything was in working order. They asked our friend Rita Morkrid to drive to Ocean Shores and pick them up. No good deed goes unpunished they say. Rita received a $125 speeding ticket in Ocean Shores right before she came to the condo. I never heard her complain, though. She is a saint.
Replacing Jan and Mike were Rob's brother and sister-in-law Paige and Jan Erb. They fit right in with our group. Debbie sat for most of the afternoon crocheting caps and watching movies. As a special request Debbie crocheted me a customized cap. The cap has a faux Mohawk crest on it. Two days later as I was buying gas, the service station attendent asked if he could borrow it for one or two months. I declined his request.
I've been wearing the cap to TACID meetings and Thursday wore it to Rotary for lunch. While sitting with Robbo, Donn, John Reding and Mike Jones, my friend Jim Harris appeared at my shoulder with his camera and took my picture. And then sent me the photo with the caption, "Would you be seen at lunch with this guy?" Funny, very funny. But then, Jim is a very funny guy. Do you think the cap makes me look fat? Weird? Crazy? Or, just plain stylish . . . fashion leader that I am?
I hope I am able to keep this hat. I lose them all the time. I've had several hats over the years. Baseball caps come and go. No one steals them, not with the size of my head, but I leave them in restaurants and at meetings . . . they just disappear. Sometimes I even get them back for a while before they disappear, again. One of my absolute favorites was designed by Peg and her mother made it for me. It was basicly white with a red, white, and blue topknot that moved as my head jestured. The cap might be at the bottom of our clothes closet by the front door, but it has holes in it. But now I have a new favorite. It must have inspired a dozen comments or more from my friends . . . most of which I can't repeat, but strangers really like it. Thank you, Debbie.
Donn, Rob and Paige played cribbage for much of the afternoon, while Rob complained about the volume of the movies the rest of us were watching. After Donn prepared his beef stew he and Rob and Paige bundled themselves up well and went for a short beach walk and then parked themselves on the balcony and watched the waves as they smoked cigars and drank Scotch.
The stew was wonderful. We played a game of Apples to Apples and then I went to bed. I think if we could have eaten an hour or two earlier, we could have returned to Galway Bay for a beer just to give Paige and Jan a feeling of how much fun our group can be. As it was, I even declined red velvet cake with ice cream and was asleep within minutes of touching down.
Sunday morning dawned and we began packing to go home. We decided to go out for breakfast and then return to load up the cars. With Rob in the lead vehicle we returned to Ocean Shores via the beach. We drove through several small ice-covered creeks emptying into the ocean and passed huge chunks of driftwood trees. We even saw members of the Ft. Lewis Ranger Battalion on the beach.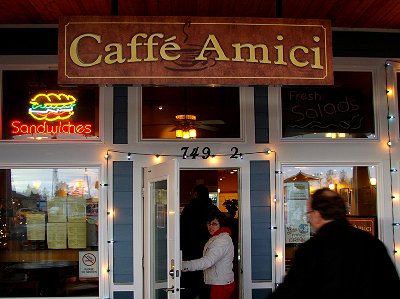 We chose Caffe Amici for breakfast. (The Amici Bar is where our group gathered by accident in Rome when we traveled there three years ago. Warm memories.)
We were welcomed into the restaurant. We had a great time over laughter and waffles before we drove back to the condo and then back to Tacoma. It was a wonderful trip and one that we might have to duplicate in the future.
On our way to the ocean North Bay had shown us its mud flats. As we drove along the bay heading away from the ocean it was peaceful and had mini ice floes floating over much of the shallow waters, probably washed down from the creeks.
Back in Tacoma we stopped in to see Jan and Mike on our way home to see how they were doing. Mike's arm was feeling better and a plumber had answered their distress call and fixed the broken pipe. Their party was still hours away, but they were relaxed and happy . . . as we all were.