Northwest Adventures
Northwest Adventures | Northwest Restaurant Reviews
Safe Travel Tips | Travel Links | Travel Videos | Vacation Adventures
A Quick Trip to Ocean Shores
by Don and Peg Doman
We could have written half a day off to work, but we decided instead to have an adventure. A friend asked me to photograph one of her clients as part of a testimonial for her business website, LeMay Shredding. The client, Dave Lewis works for Timberland Bank. To connect with Dave I would have to drive about an hour and a quarter towards the coast from Tacoma. The trip would take me through Olympia and Aberdeen to Hoquiam, which is only about twenty minutes away from the Pacific Ocean and the Washington Coast. Actually, Hoquiam delivers you to tidelands of the Pacific.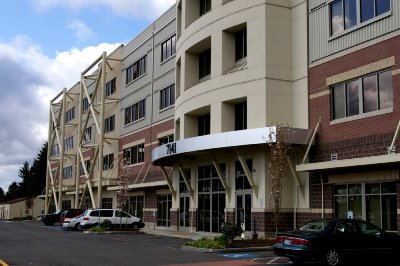 Peg and I talked about extending the trip a little bit with an overnight stay at the Quinault Resort in Oceans Shores. We had eaten lunch there, but never stayed there although my sister and brother-in-law enjoy staying there when they can. I added one more element to the trip and suggested to another client, Jon Graves Architects & Planners, that I photograph one of their projects in Tumwater, which is right next door to Olympia and virtually on the way. This would save travel time for photographing their design project of the Airdustrial Office Building.
Our trip began only ten minutes late from a projected departure time of 9:00 am. I had a Google map print-out, but figured I knew about where the building was. I recognized the building from the design drawing even before I found the correct street. The building is very distinctive with exposed supports used as design elements. I didn't know before visiting the site, but it is the home of the Washington State Attorney General. Oympia is the state capitol of Washington State, and Tumwater, actually at one time more famous for Olympia Beer, which was brewed there, than the seat of Washington government.
After taking two dozen photographs Peg and I got back on the freeway and headed towards Aberdeen and Hoquiam. It was a beautiful day. We played a Delbert McClinton CD with me continually replaying the first song, An Old Weakness Coming on Strong. Delbert McClinton plays a kind of honky-tonk-country-western-rock-and-roll and his music is envigorating. As we drove we looked at the scenery, drank Diet Pepsi, laughed and talked. When we found ourselves about half-way between Olympia and Aberdeen we noticed wind damage.
Just outside of Satsop, once a target for atomic power, I stared at a stand of alders. It looked like the wind had gone up and over the trees on the outside of the stand and then about ten yards in had come down and flattened a huge area a couple of hundred yards long. It looked like a giant had stepped on the trees. Each trunk was snapped off at about twelve feet. From then on I looked at the trees. I saw tall cedars laying across lawns and sometimes instead of trees all I saw where exposed root systems. Many home of course had piles of what looked like nearly cut firewood. I should have kept an on my speedometer instead of the trees. I met a very nice man from the Washington State Patrol. He gave me a break and awarded me a ticket for going ten miles an hour over the speed limit. I had been going eighty, but he knocked it down to seventy. For the rest of the trip I used my cruise control set at just five miles over the speed limit. I don't like too many people passing me.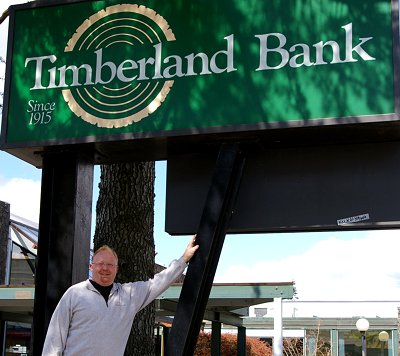 I've been making the trip to Ocean Shores since I was a child. Our family went camping there. The first anniversary of my marriage to Peg was celebrated in a tent that whipped back and forth in the wind in the middle of a storm at Ocean Shores. As our family grew we took our truck and camper and three children to Ocean Shores. Since the children have grown we still go there and stay in a condo or motel. And in all that time of traveling from Tacoma to Ocean Shores I can't recall there once being a time when the road was not under construction. This time was no different. Dave had given me his cell phone to call as we got closer to the bank, so he could lead us through the construction work. We made it to within two blocks. I could have made it there, but Peg insisted we call.
Dave was very friendly and we talked for about fifteen minutes as I took a few pictures. I asked about the downed trees and he said it was from the December 3rd storm (five months before our trip). As soon as he said that I knew exactly what he was talking about. Peg and I had been at home in Tacoma that night. I have never seen so much lightening. It lit up the sky between us on the mainland and Vashon Island to the north. I stood outside on our driveway watching the skies and counting the seconds before the thunder hit. I finally decided the storm was getting a little close and went inside. Rain and wind followed. Water flowed under into our bedroom driven by wind . . . and our bedroom door is set-back about three feet under our deck and the door jamb is about three inches above the walkway. It was a first.
Dave told about his 1910 house being pushed by the wind and every time the wind let up, the house leaned the other way. He said, "I just knew the next step would take us away like the farmhouse in the Wizard of Oz." At the bank, the canopy over the covered walkway was rolled off its supports. That's been repaired, but above the Timberland Bank sign is a clock, which is still missing a hand. Now, that was a storm.
We continued our drive. Peg was getting a little hungry and I saw a sign that said Lytle Seafood. We crossed a bridge over the Chehalis River, just one of the many Salmon posted streams and rivers in the Pacific Northwest, and I turned into a driveway which took us to a small store. I noted two picnic tables in the tall grass beside store. Inside was fresh seafood and tourist tee-shirts and goodies. We settled on a shrimp cocktail, a crab cocktail, a hunk of smoked sturgeon, and two finger-sized shrimp. The clerk said she had never had an order for only two shrimp before. She weighed, bagged, and priced them . . . seventy-two cents. I was looking at their shot glasses as Peg talked to her about oyster shooters. She told of a woman stopping by and having forty oyster shooters. Peg mentioned she should put up a sign commemorating the event. "I should," she said. The previous "winner" of the most shooters was held by some university students who stopped in and had twenty each. An oyster shooter is a shot glass with a little seafood cocktail sauce in it, a raw oyster and perhaps a drop or two of Tobasco on top to finish it off. I can eat a few, but forty? That's a lot.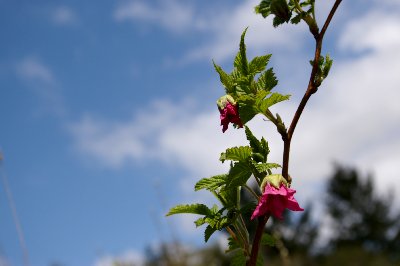 Peg and I took our picnic fare outside and sat in the cool breeze eating our seafood. We huddled during our picnic was more like it. It was a little cool outside, eventhough it was a beautiful day.
The sturgeon, possibly from the Columbia River was nice and firm. At home I would have sliced it like Chinese BBQ pork and eaten it with mustard and sesame seeds. We were about a hundred feet from the river and about half a mile from James Rock. It was a little cold, but the food was really good and it was a beautiful day, so we sat and enjoyed the view and the company. I took a photo of a wild looking plant with a redish bloom. Peg who is really good and knowing flowers and plants, didn't have a clue. The wind picked up as I tried to shoot a photo of the plant. After I snapped the picture we cleaned up the table and hurried to our warm car hoping the picture would turn out. It did.
As we contined our drive to Ocean Shores I spotted to hawks soaring above the cedars. This whole area is dotted with wetlands and newly developing forests giving raptors much to hunt for in addition to the fish and wildlife along the banks of streams and rivers, which empty into Grays Habor and the Pacific Ocean.

We bypassed the road to the Quinault Resort and continued our trip to Ocean Shores, which is just a mile or two south. We drove around looking to see what had changed. We visited a thrift store, had dessert at a bad restuarant, bought a few things at the grocery store and then drove to the resort where they let us check in hours early. We checked emails at the resort office and then went to our room. The resort is just about ready to celebrate its eight anniversary. The Quinaults are an American Indian Tribe. The Quinault Resort is a hotel and casino south of the Quinault Rain Forest on the Peninsula of Washington State. The rooms at the resort have gas fireplaces, high ceilings and about 450 sq ft of living space. For an extra $20 you can have a view of the Pacific Ocean. No contest. We stayed there to enjoy the view, what's another twenty-dollars?
From the parking lot of the resort you can choose to walk on trails, or you can take the boardwalk to the beach. At hightide, the waves about probably two hundred yards from the resort with driftwood and wild grass and sand in-between. During summer there are quite a few people along the beach. At the end of April, people were not so readily seen. I enjoyed standing at the windows and watching the waves, the sky, and the birds. Even sitting and watching TV from the couch all I had to do was turn my head slightly to see the view. Peg and I watched TV and then I took a nap as she read to herself. About 4:40 pm I got up and went downstairs to look over the menus of the restaurants within the resort. They seemed a little pricey with breakfast their best value. I reported back to Peg and we decided to go back to Ocean Shores and look at menus at several restaurants before deciding our fate for dinner.
We stopped at the Home Port, which had about the same menu as the Quinault Resort, but about $6 less per entree. The Mexican restaurant had basic fare and prices, but it was nothing fancy. We decided not to eat Chinese, but having eaten at the Chinese restaurant before it always was an outside chance for dinner. We knew we didn't want to go back to the other middle American restaurant we first stopped at for dessert when we arrived in town. When the cashier took my credit card she asked, "How was everything." I commented, "C minus." She must have heard it all before, because she never said another word. The last place to visit was Galway Bay. I think they had moved since we had eaten there before, but it could have been a faulty memory on my part. The food had been good. We knew that.
We parked in the little strip mall and entered the red door at Galway Bay. We asked to see a menu. There were some great choices. We sat down. The waitress was friendly and funny. Even if the food was bad, I think I would return just because of her. The pub had the look of an Irish pub. Go figure. One section of the ceiling had tee-shirts stapeled above our heads. Some were autographed. Above the bar were dollar bills posted. You write your name on the dollar and its tacked to the wall, so you always have money for a beer whenever your return. The dollars were both US and Canadian. There was a private dining room. The outside wall of the room looked like whitewash stones and a thatched roof hung down giving it an appearance of an Irish cottage. There was a fine wooden bar, wainscoting, and a small stage area. Between the stage and the bar on the far wall was a stone fireplace to give a nice cozy feel on a cold wintry night.
Our table had a montage of photographs covered with epoxy. The photos were of happy patrons. The waitress brought us some Harp Lager and we over-orded for dinner. I'm big on sampling. To order one thing for dinner could result in missing something really worthwhile. We had their home-cooked potato chips with ranch dressing. I admit it wasn't very Irish, but I really like them. They reminded me of Spar Chips served at one of my favorite taverns in Tacoma, The Spar Tavern. The Galway Bay potato chips were possibly better than those at the Spar, but The Spar beats them hands down with their sour cream in a squirt bottle.
I also ordered the Guiness Beef Stew, which was excellent. Along with a salad the Galway also serves an Irish Soda Bread, which tastes more like a crusty pound cake. I sliced off pieces of the bread and ate them buttered with delight. I would have loved to have had biscuits to dunk into my stew, but I didn't want to waste a slice of the bread for that. I also ordered the Sausage Roll, while Peg ordered the Seafood Pasty. Both were served with colcannon. Colcannon is an Irish concoction of mashed potatoes, cabbage, butter, salt and pepper. The Sausage Roll was served with pork gravy, while the Seafood Pasty was served with a cream gravy. If I had been hungry I would have added a number of pats of butter to the Colcannon and dived in. My butter was reserved for the bread, however. In addition to the Harp Lager, I tried an Irish nut brown ale. Peg liked it more than I did, however. Harp went down so easily with everything, it was easy to stay with that. I asked the waitress about entertainement, and she said, "Sorry, only on Friday, Saturday and Sunday evenings." Everytime she spoke I heard an Irish accent, but in reality there was none. Maybe it was just her smile.

I had seen a man walk in wearing a dark blue overcoat. He took a table fairly close to the bar and removed his coat. After a few minutes he walked over to the stage area and sat down at the piano. It looked like we were going to have some unscheduled entertainment. He wore a lime green sweater and had a twinkle in his eye. He began playing. The song was Ivory Joe Hunter's Since I Met You Baby, which was a top forty hit in 1956. Most people have never even heard of Ivory Joe Hunter and if they know any of his songs it's usually I Almost Lost My Mind, which was a number one hit when covered by Pat Boone for god's sake. To hear Since I Met You Baby told me we were in for a fun evening. He played a wide-spectrum of tunes for nearly forty-five minutes. When he played Billy Boy, Peg and I sang together from our table, where we were already holding hands. He played Galway Bay and near the end played an excellent version of Danny Boy. His arrangements were somewhere between blues, jazz, and country western. It could have been me up there playing. I went up to the piano and dropped a ten dollar bill into a large glass. He stopped laying and made his way toward our table. I motioned for him to take a seat and join us. "You tipped me too much," he said. I replied, "What? Did I give you a hundred by mistake?" "He laughed and said, "No one here ever tips ten dollars."
His name was Jerry Waylen. He's retired and plays at the Galway Bay when he feels like it. It had been over a month since he had last played. This was a lucky Tuesday for us. Jerry was interesting. He grew up on the East Coast and graduated from Harvard. He is a retired teacher. He used to construct curriculum for schools. He talked about his father buying a farm with a barn so large you could park a 747 in it. None of the kids wanted to run the farm, however. He father was an educator, also. Once Jerry came to the Pacific Northwest he was hooked. His daugher, a teacher in Souther California, visits occasionally. Eventually, she will inherit Jerry's Ocean Shores cabin. Jerry mentioned that he was never going to be rich. This is something that Peg and I had just talked about. We feel rich and we enjoy ourselves. Isn't that what life is about? Jerry, who has never had a piano lesson in his life, loves to play, but does it only when he feels like it. I hope he feels like it the next time we visit Ocean Shores. Our night in a little Irish Pub with Jerry was a shining hour for us.
Peg and I drove back to the resort with huge smiles on our faces. What a lovely evening it had been. Back at the resort we relaxed. Around midnight I looked out the window and the spotlight from the resort was putting on a spectacular show with a mixture of snow and hail. We never lit the fire, but we were cozy in our kingsize bed. I was up early as usuall and visited Emily's Restaurant downstairs. If we had been in a suite with a private bedroom, I would have ordered from room service, but I didn't want to wake Peg up. The prices from the restaurant are the same as room service. Room service takes an additional 15% charge, but that is very reasonable, especially with the size and quality of the meals we had. I asked for a combination of orange and cranberry juice. The waitress said, we don't offer that, but I'll make you one. I also asked for my hasgbrowns to be "burnt, burnt, burnt." They were served dark brown and crunchy. I also asked for a cup of gravy at the last minute. It was quality service with a smile each time. Later I joined Peg for second breakfast. Different waiter, same service. Excellent.
Back in our room I stood by the window and looked out at the view. Sea gulls, crows, and pigeons flew by the window. I remember when we stayed at a Ocean Shores hotel with the kids. We threw slices of breaf out the windows and the gulls would catch them on the fly. I've done the same thing with gulls off the deck of some of our Washington State Ferries. Maybe no one does this any more. The gulls didn't seem to be looking for a handout, but could have switched their styles at any moment. One of my favorite parts of the view was a piece of driftwood. It looked like a land Orca, with a dorsal fin standing up. It will be gone when I visit again, but it was fun looking at it from my room while I was here.
The return trip to Tacoma was uneventfull and kind of boring. Peg slept most of the way. When she relaxes, she relaxes. Evidently the excitement of our trip was too much for her. It felt as if we had been away for a week or so, but in reality it was just hours. Hours well spent, however. Hours well spent.
---
This site was designed and maintained by PublicDoman.com.
If you have any questions or comments, please contact us at trainingmedia@yahoo.com.