A group of friends joined us for dinner at the Browns Point Diner. After dinner we continued on to Dumas Bay and CenterStage. Eleven of us took seats scattered around the theater. To start off the entertainment Alan Bryce introduced The Town Squires, an excellent barbershop quartet who warmed up the crowd with a selection of Christman carols. When Sister entered the room, she eyeballed our friend Randy, who had been worried that he might fall asleep during the performance since his workday begins at 4:30. He hadn't a prayer to get in a nap. He was wearing a cap. That is a big no-no in Sister's class. She took him to task and kept after him all through the two acts.
The finale was a re-enactment of the Nativity. Sister was looking for appropriate people to play the group who came to Bethlehem to see the new baby. "I'm looking for a big guy, ummmmm." I was hauled up on the stage to play the part of the ox. Dressed in a brown sheet, a brown tee-shirt to cover my head and a set of rubber horns (that kept sinking down my head) and rubber snout to complete the look of an ox. My friend John was chosen to play Joseph, the carpenter. (John is a carpenter and furniture restorer.) Sister didn't have a hammer or saw for Joseph, so she completed his new costume with a staple gun. The last person chosen for the nativity was Randy as the Little Drummer Boy. With CSI reasoning Sister proved that the Magi Gold was stolen by the Little Drummer Boy, so Randy was the star of the play.
We had a great time and for several days each time Peg looked at me she broke out in giggles as she recalled my ox-like performance. That's what I love: recognition! If you can't laugh at your spouse, who can you laugh at? Your friends of course. If you can't laugh at your friends who can you laugh at? Strangers of course. Nonie Newton-Breen ad-libbed and quiped her way through the performance that resulted in continual entertainment.
"Music Hall" style panto features men who dress as women, women who dress as men, songs and an unending silliness of jokes. Here are just a few:
She had Buterface Disease. She was ugly all over, but her face was even worse.

I'm always amazed at the talent displayed at CenterStage. It's a labor of love for many, and for others it's a place to strut their stuff. I love it.
Simply outstanding at every level was Alexandra Blouin playing Dandini, Prince Charming's aide. Besides cutting a very fine figure in high-heeled boots, frilly blouse and cut-a-way coat that revealed shapely legs, her physical fitness was outstanding. She returned to the stage after a year off for clown training and other physical forms of Commedia Dell'Arte. At least twice she did a forward roll on the stage and in the telescoping line dance, which she led, she had to squat and rise about twelve times. On the last squat she needed a steadying hand, but it was easy to forgive since the play was near the end and Alex had given her all for two acts. Before leaving for her year of clown training she was very active in the Seattle area. I am so sorry I missed her All Girl Red Nose Revue! One more reason to like her? She loves the cancelled TV Science Fiction series Firefly, also a favorite of mine.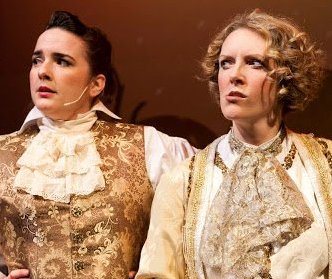 The other good looking and outstanding woman playing a man was Hilary Hinz. This was the second time we've seen her as a prince. She was Prince Michael of Normandy Park in the Sleeping Beauty panto two years ago. Hillary plays Prince Charming, who is looking for a wife. Like Alex, she wears high-heeled boots, frilly blouse, and cut-a-way coat. We also saw her in Enchated April at CenterStage. I would have loved to have seen her playing Lois in Kiss Me Kate, which is a favorite musical of ours. She's a product of the theater arts program at the University of Oregon. She followed her husband here and, like him, is a vegetarian . . . but they both eat bacon if the pig is killed humanely. Hilary and Alex were often on stage together. They played off each other very well indeed. Hilary is a delight.
Playing Cinderella was Erin Herrick. She is a graduate of the Unversity of Washington. She performed in a number of productions at UW including two musicals. We've got to watch the UW calendar more closely. We love their acting and musical programs there and sometimes see the same production several times.
Erin did a great job as Cinderella, but she broke her best friend Buttons' heart when she told him she just wanted to be friends. Cinderella and Buttons played off each other very well. She went from rags to ball gown nicely. The pumpkin coach that took her to the ball was fantastic. Erin was also the star of All Shook Up, a muical production in the Village Theatre Kidstage. We look forward to seeing more of her work both at CenterStage and around the Seattle area.
Erik Gratton played Cinderella's best friend, Buttons. He worked the audience well and was the best contact between the children and the cast. The scene where he had a pushcart of games for sale was a crowd favorite. He was talking with Dandini (Alex Blouin) as they circled the cart. Each time they gave a line it contained the name of a game. "I want to Connect." "What to do you want to Connect-Four?" At the appropriate time they would grab the game box and hold it up to illustrate the name. It was very clever and the everyone loved it.
Each time Button came of stage, he'd shout, "Hiya, kids!" and the audience responded with "Hiya Buttons!" Our young nephew Jacob was called up to be part of a scene with him. Two of our granddaughter were thrilled to have their photograph takend with Buttons after the show.
Erik Gratton is a member of Actors Equity and has many acting credits on stage and television. He played on the soap opera All My Children. He has been working in New York and Los Angeles. We look forward to seeing more of his work on stage here in the Puget Sound area.
Joining Erik as the only other Actors Equity member was Roger Curtis, whom we've seen as the Panto Dame now in four productions. He's writing a book and teaching, about acting of course! We always get a kick out of his panto work, but have not seen him on stage other than that. I bet he's good.
Joining Roger on stage as the other "Ugly Step-Sister" was Artistic Director Alan Bryce. This was the first time we've seen Alan on stage. He does simpering ugly, really well. Alan is the driving force behind CenterStage. The Federal Way and Puget Sound community is very lucky to have him as a resident. There would be no panto without Alan. And that would be a shame.
One of the big benefits of CenterStage is the training ground it gives to young, aspiring actors and actresses. The object is not to just have a theater where you can act, but one where you can learn and grow as a performer. Alan Bryce and CenterStage provide that.
Although community and regional theaters goers are quick to forgive miscues, they expect the actors to get better. The level of quality at CenterStage provides the chance to come in, learn, and be encouraged to improve. The "Youth Ensemble" is just the place to do that.
The "Ensemble" is a place for for experienced actors to keep their foot in the door . . or get their foot in the door locally. In Cinderella both Peg and I recognized a CenterStage newcomer as experienced.
Katherine Jett, sang a line or two, but her movements were excellent. Actually, she didn't just move, she flowed. She must have had ballet training because she was fluid from her body to the tips of her fingers.
Katherine is from Tennesee where she performed with the Tennesee Shakespeare Company and was also a resident actor with the Renaissance Repertory Company in Nashville. Locally she has acted with the Seattle Sharespeare Company in the Merry Wives of Windsor, which we unfortunately missed. We would love to see her in other roles. She not only acts, but even plays the fiddle, too.

All the audience members really enjoyed both productions at CenterStage. Sister's Christmas Catechism was so well done and the fact that Sister called up three people from our group made it all even better. The panto was again such fun that we plan on doing it each year. So do all of our family members. We'll be back next year! Dinner and the annual panto is a surefire family gift for the holidays. Be sure to ask for a group rate.