Northwest Adventures
Northwest Adventures & Theatrical Reviews | Northwest Restaurant Reviews
Safe Travel Tips | Travel Links | Travel Videos | Vacation Adventures
Mother's Day - The Buttered Biscuit in Sumner Breakfast Review
by Don and Peg Doman
I woke up and turned my computer on at 5:35 am. I looked past my computer screen and out the window in time to see a young raccoon amble towards our carport after a nighttime of scavenging . . . him, not me. "Cool," I said out loud to myself. A short time later two young bucks nibbled their way carefully across the yard.
I was up early to put the finishing touches on a breakfast review of Alfred's Cafe before my friends Donn and Debbie Irwin arrived to pick me up for breakfast on Mother's Day. I don't like eating two large breakfasts two days in a row, but a writer does have to make sacrifices.
The three of us were celebrating Mother's Day together. Peg didn't join us, she had a Mother's Day brunch planned with other family memebers at Johnny's Dock. Donn, Debbie and I were going to The Buttered Biscuit in Sumner, which had been suggested by a fan in response to our Tacoma Breakfast Review article. I planned on eating better than the deer and the raccoon.
On the Buttered Biscuit website I noted that the restaurant opened at 6:00 am. That should have given us a clue, but we thought arriving by nine would get us seated fairly quickly. We drove up and down a few streets in Sumner and then after a couple of wrong turns we saw traffic streaming down an alley mid-block. Donn joined the stream and this took us to a huge parking lot, which was completely full. "Uh, oh," I thought, "this is not cool."
Don dropped off Debbie who ran inside. She came back with the bad news, "Fifteen minutes. We can do fifteen minutes." I got out of the care and stood in line while Don drove around the block and waited for a parking spot. After nearly fifteen minutes of rain drops splattering on our heads and down our backs, we edged inside the bunker-like basement of The Buttered Biscuit. Donn stayed about ten feet inside the door, while I crossed the floor to join Debbie by another exit on the far side of the building. This gave us two areas to listen for our reservation to be called. We didn't want to miss anything. Little did we know that we had time for a nap. We were finally seated after waiting fifty minutes.
Ten more minutes and would have starred in an episode of America's Most Wanted. Debbie and I noted quite a few inefficiencies, but we forgave them when we got to sit down and look over the menu. The bussers and waitresses were in constant motion, and always with a smile on their faces. We had coffee, water and menus fairly quickly. We ordered and then waited. As Deb and I had stood and watched the diners earlier, we knew the routine. It looked like everyone was served a humongous chunk of cornbread. Not so.
I was served a chunk. Like the plates of cornbread I had seen across the restaurant a few bites were all that were managed. It tasted like dry white cake with a little cornmeal mixed in. Some of the chunks I had seen were delivered with tubular squirts of what I assumed were butter, while some had a schmear of what looked like frosting. I got the one with frosting. I picked at it and sampled a small piece. It was just plain weird. What is the point of serving something like that? The portions at The Buttered Biscuit are huge, so why would someone snack on this dried out cake before chowing down on the main course?
Debbie ordered the Eggs Benedict. The website states: "All of our breakfasts are served with our fried spuds, smothered with green peppers, onions, and seasoning, with homemade cornbread unless otherwise requested." Neither Donn nor Debbie got the cornbread, but they got much more than they could eat. When we were waiting outside we saw nearly everyone leaving balancing white styrofoam containers of leftovers.
The Signature Biscuit Benedict features "split biscuit smothered with Tomato, avocado, provolone, parmesan, artichoke, zucchini, feta, Swiss and hollandaise." Accompanying the eggs are half a plate of their "fried spuds, smothered with green peppers, onions, and seasoning." The Buttered Biscuit describes all this as "Gramma Style" food. Gramma must work in the field pulling a plow all day long to need this much food.
The look of the potatoes reminded us of the Spar Chips from The Spar Tavern in Old Town, Tacoma. But they didn't seem as crisp.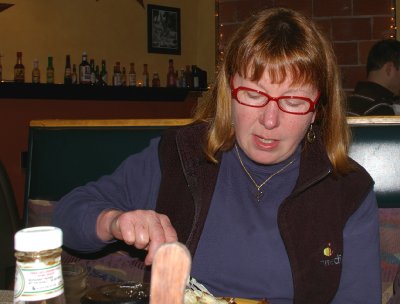 I think Debbie ate maybe a couple slices of her fried spuds, while she only managed about a third of her eggs and hollandaise. Donn fared better with his sausage links, bacon and eggs. But he fell down on his griddle selection. He whittled away at his plate-sized blueberry pancakes until only an island survived in the middle of his platter still piled high with blueberries. He finished perhaps half of his hashbrowns.
Although the hashbrowns were requested with our normal chorus of "burnt, burnt, burnt . . . with an onion cut up in them." The hashbrowns were only served mostly brown with uncooked onion rings on top. Mine were about the same. The boast of The Buttered Biscuit "Special requests are no problem" went out the window in the huge crowd of guests. I'm guessing we saw better than eighty people coming and going in the basement of The Buttered Biscuit is our portion of the morning.
Donn declined a take-out container, while Debbie took her leftovers home. It was her special day after all.
I ordered the Not So Little Chicken, which had a 12 oz. piece of steak and split biscuit and maybe scrambled eggs underneath two gallons of hamburger gravy . . . and hashbrowns. I said maybe scrambled eggs because there was so much gravy it was hard to tell where one item started and another ended. My complaints melted away with the first bite of chicken fried steak. I tried to give Debbie a bite, but she had her own problems. After about eight forkfulls, however something happened to the steak.
The steak is served over a split biscuit drenched in gravy, but the crispiness of the frying disappeared as that gravy softened the coating. The last few bites I had were certainly not as good as the first couple bites. Too bad. I think next time I will go for the smaller version of the chicken fried steak to see if it retains the right crispy elements all the way through the meal. I took half of my steak, most of my underlying biscuit, two-thirds of my hashbowns and a gallon of gravy home.
In addition to my steak, like others before me I balanced two styrofoam containers as I walked out the door and slid into Debbie's PT Cruiser. The second container? Peg asked me to bring her a biscuit. I ordered two to go. Peg and I differ on the correct size of the ideal biscuit. She prefers biscuits that are about two inches in diameter. I prefer biscuits twice that size. The Buttered Biscuit serves the latter. Their biscuits are about four inches across and over two inches tall.
Late in the afternoon I popped a biscuit in the microwave for twenty seconds, which heated up the biscuit to just this side of warm. My favorite jam is raspberry, but I didn't even bother taking it out of the fridge. I buttered my pawful of biscuit and devoured it for dinner along with some Diet Pepsi. I couldn't even think of anything else to add. My leftovers and the other take-away biscuit I left for Peg. Half a meal plus a biscuit lasted me the entire day. Not bad for about $25.00 including tip.
Donn and I both agreed that we would like to try The Buttered Biscuit on a normal day. I committed to memory the statement on the receipt that promises a free meal on your birthday. Actually, Peg and I are planning an adventure to downtown Sumner, soon. I think it will be fun.
---
Agree? Disagree? Tell Us About It!
We have had a nice out-pouring of suggestions and ideas for breakfast both in Tacoma and the surrounding area. We will be planning an adventure soon to Sumner after some comments enticed us to breakfast there. The Buttered Biscuit? Now, that is some place we have to try.

Tell us what you think. Invite us to breakfast! Thanks.




---