The phone rang at 8:15 on Saturday morning. A call that early had to mean breakfast. My friend Donn Irwin was on the line, "Are you up for breakfast?" I was up and I'm almost always ready for breakfast. I woke Peg up and asked her if she wanted to go to breakfast. The answer was no. I explained further that we would be joined by Donn's wife Debbie, and our friends Jan Runbeck and Mike Mowatt. She rolled out of bed and into my arms. We had fifteen minutes to get ready and then drive to the Harvester Restaurant just kitty-corner from Stadium High School.

The other two couples were just scooting into a booth as we walked in. We joked and laughed with and at each other for a good hour. I asked and received excellent hashbrowns, "burnt, burnt, burnt . . . with an onion cut up in them." The six of us are gang members of the FandFers (Friends and Fridays). We have a great time together and with others as well. We're a very friendly gang.
As our friends prepared to do lawn work and other mundane offerings, Peg and I had an adventure to experience. We headed home, got some billable hours done, packed our bags and headed for Port Orchard.

Many years ago we lived on Long Lake, which is right next door to Port Orchard, but we considered ourselves residents of Tacoma and Pierce County even though we were living in Kitsap County. All in all, we've been in Port Orchard maybe two or three times.

I had seen an ad on the Saturn Barter website for a cabin on the water in Port Orchard from Venture Charter Boats. I thought it might be fun to rent the cabin for a couple of days. I had no ideas where the cabin was in relationship to the town, to Long Lake, or anything else for that matter, but we rented it anyway. I searched online calendars for events in Port Orchard, Ollala, and Gig Harbor and struck mostly out. A lavender festival seemed like it might be fun, but Peg's allergies nixed that in the bud.

We were in no particular hurry, so we visited Long Lake and then wandered around shorelines, detours, and back roads before giving up and trying the freeway and Map quest directions.
We located the cabin. It was right on the water and a little more rustic than I had hoped. I felt like I should have been wearing a flannel shirt. The owner occasionally rents to people with pets, so we needed to see if Peg had any trouble breathing. She didn't. I felt a little crowded. A kayak is tied to the walkway railing. Kayak paddles lean up against the wall of the deck. A rope leading down to a crab pot in the water is tied to the deck railing.

I walked sideways along the walkway and the hallway. Doorways were a combination of duck and flinch for me. From the living room to the kitchen was a half step up, while ducking down, so I didn't whack my forehead on the doorjamb. Later Peg would forget about the step down from the kitchen. She danced three or four steps and caught her balance and wrenched her hip a bit. I'm glad I didn't see it. I probably would have laughed and ruined a great marriage.

We took a quick inventory and headed out to buy a reading lamp, some soft soap and a couple of other items which didn't get written down, nor purchased.
Instead of driving back into town, we continued along the shoreline and found a garage sale within a couple hundred yards of the cabin. The sign said storage wars and it was a storage facility. Several people opened up their storage overhead door and trotted out their wares. While Peg talked to a younger two berth man with tattoos, I talked to an older couple. They had three lamps. I asked the prices and got a desk lamp for $3.00. I didn't try to haggle. Three seemed like a good price.

I walked out of their storage compartment with my new lamp and Peg's negotiations ended with the tattoo guy. He was really nice and offered her a choice of light bulbs since my socket was empty. We took the highest wattage. He also had five shotgun shell re-loaders. He must do a humongous amount of skeet shooting.
Before driving back to the cabin, we drove past it to the Beach Side for a Diet Coke. We were looking for some place for Sunday night dinner. We took a seat in the empty dining room and the waitress in a short camouflage dress with no means of visual support gave us menus to look at. As she walked away I admired her black knee-high, black leather boots and as she walked through the door back to the bar I noticed a large plastic container with "aloha gear" written on the side just behind the open door. I think it was supposed to be a grand opening for this steak house. We looked over the menu. The food items seemed a little pricey for the decor, but worth a try.

The waitress came back in and we explained we were just looking around for someplace to dine or be entertained the following evening. She invited us back on Sunday for "open mic." "It gets started around 6:30," she explained.
We finished our drinks and left cash for the sodas and a tip and returned to the cabin. After installing the light bulb in the lamp and connecting the lamp to an electrical socket on Peg's side of the bed, we hit the road.

We had reservations for "Award Winning" Brix 25° in Gig Harbor. Brix has received some great reviews for their food. The restaurant is located in downtown Gig Harbor about a block from the waterfront. It took a little over twenty minutes from Port Orchard to Gig Harbor and then we drove past the restaurant front twice and the back once before figuring out where it was. Parking seems to be a little bit of a problem. Luckily we were there in the early evening and parked in parking spaces for the visitor information center because they were closed.

Brix features excellent wine and more unique dining items than most other Pierce County restaurants offer. To put you in the right mood, the present you with a flute of sparkling wine. Sweet and refreshing.
We had a great meal. For starters we had a crab cake (spicy dungeness crab, pan fried and served over a bed of sauteed baby bok choy, lemongrass & garlic) and Poached Pear & Cambozola Bruschetta (balsamic- honey poached pear chutney, cambozola, frisee & chopped hazelnuts on toasted crostini). Peg ordered the Shredded Lamb Pappardelle (hand cut pappardelle noodles, braised leg of lamb, roasted tomatoes, green olives, feta cheese, shaved green onions), while I chose the evening special of baby back ribs. I was disappointed in both the ribs and the fact that I chose them over the lamb or my second choice Brix Signature Boeuf Bourguignon (tender morsels of braised beef short ribs, roasted cipollini onions, crimini mushrooms, carrots, bacon, rich burgundy sauce, Yukon gold mashed potatoes). What was I thinking of? What was the chef thinking of? Dry ribs that should have been fall-off-the-bone delicious were not. I've tasted Safeway deli ribs that were better.

For dessert I had the Dark Chocolate Ganache, while Peg had the Chocolate Torte. I loved the Ganache and Peg loved her Torte, but not the strange crusty cookie garnish served with it. We both thought the Bruschetta and the Lamb Pappardelle absolutely wonderful. Her glass of Sangiovese was a fantastic pairing with the lamb and pasta.
After dinner we drove contentedly back to Port Orchard and our cabin on the water. Peg sat and read inside only a few feet away from me outside.

The sky was a little cloudy, which made sitting on the deck of the cabin facing the sunset very, very comfortable. I sat for over three hours reading a book, checking my email via my Smartphone, sipping Orange Crush, watching boats, listening to waves and gulls, and smiling into the evening breeze as the sun slowly drifted behind the Olympic Mountains.

At nine the recorded sounds of a bugle playing "First Call" surprised me. I think it came from one of the two National Guard supply ships at the Navel Ship Yard. A few minutes later "Taps" floated across the harbor and hauntingly died. It was a perfect time to retreat back inside the cabin.
I had trouble getting to sleep, but once I did I slept until 9:30 the next morning. That is almost unheard of by me. I usually am up by 5:30.

Even at 9:30 Peg was happy to stay in bed until I returned with a cup of coffee for her. I cleaned up and drove towards downtown Port Orchard. Within a few hundred yards of the cabin I looked out to the tidelands and saw a dozen or more cranes eyeballing the mud and water for food. In Tacoma I might see two cranes along Ruston Way as I drive the three miles into downtown Tacoma. To see that many cranes at one time was a delight.

I drove through downtown Port Orchard looking for a restaurant. I soon found myself out of town and on the way to Gorst. I did see many Jesus store fronts, creeks emptying into the sound, marinas, and a couple coffee places, but no restaurants.
I drove back downtown and parked near an open bar, MoonDogToo. I figured they probably served food, but kept it as a last resort. I found a bakery that was closed on Sunday and Monday and then walked east because I saw a number of neon signs that I thought might say "open." In reality the signs read "Nails" and "Bail."

Near the end of the street I noted an open door for an upstairs church service and a bus bench with a young man sporting a Mohawk. "Excuse me," I said, "any place around here open for breakfast?" He thought a second and said, "Not since the other one burnt down." A moment later he said, "No, there might be one behind the library. He pointed across the street. I saw no library, but a storefront with no name, which could have been a library. On the corner there was an antique mall. I said, "You mean around behind there might be a parking lot with a restaurant." He nodded his head. I thanked him and walked towards the little corner mall.
Later that day I found the restaurant that burned, but in my search for a current open restaurant I was about to be rewarded. I window shopped as I walked along the mall and looked at the other stores and buildings. Like other cities and town in America, many businesses have closed. Some get reopened and some don't.

The restaurant that was burned is currently undergoing renovation and remodeling, so that's a good sign.

I turned the corner and got another good sign. Actually two good signs. One said, "Hideaway Cafe." and the other one said, "Espresso-Ice Cream-Gyro-Breakfast-Lunch." I didn't understand the "gyro" part, but the rest of it made perfect sense to me.
I walked into the Hideaway. There were two people sitting down and two people standing. From her seat in a booth, the only woman in the Cafe complained about it being cold. The door was open. Jon Erickson Sr., the owner brought over a cup of coffee for me. I said, "It feels good to me." It was a nice summer morning. The Hideaway looked like a place for good natured conversation. With the owner wearing shorts and a golf shirt I felt right at home. Jon placed the back of his hand on my forearm and said. "It might be a little cold." His hand was ice cold. I quickly retorted, "Well, its probably a good thing I didn't feel you ass, then." Jon quickly responded with "Well, it might have taken some of the pressure off my wife." It was like being in an episode of Cheers.

Three of the four people I had seen were either employees or owned the Hideaway. Thinking the story over I wonder if the cook might have been Jon Erickson Jr. The one remaining person was reading a newspaper and commenting about people in the parking lot.
I looked over the menu and then ordered the Biscuits and Gravy along with a side of sausage links and a slice of ham after Jon mentioned they sliced it themselves. I asked for my hashbrowns, "burnt, burnt, burnt . . . with an onion cut up in them."

My hashbrowns were served nice and brown with plenty of onions. This is a rarity. The sausage links had a nice bite to them and the ham was good. The biscuits and gravy were a little strange. Two biscuits had been cut in half and then half a sausage patty was placed on top of each half before gravy was ladled on. I think the biscuits were frozen and the gravy was from a mix. Too bad. I ate the sausage patties. More people came in. Jon provided me with a "to go" cup of coffee for Peg and I left. I really like the place. The people were so friendly and helpful plust the meat and potatoes were good.
On the way back to the cabin with Peg's coffee I stopped at Blackjack Creek. The creek runs under Bay Street and out into the sound. Salmon swim up the creek to spawn. The Blackjack Creek Salmon run past the cabin during spawning season.

The creek flows past a new car dealership on the waterside. On the upland side a wetland of long grass and gravel feed in the fresh water on its way to the harbor. On the other side of town is another creek that has a really beautiful upland landscape, but it didn't carry a sign. I'm guessing the salmon don't run there. The creek runs past a closed BBQ restaurant.

If I had nothing better to do, I might buy the property and remodel and convert the restaurant into a creek side home with views on two sides (creek and harbor).
Back at the cabin I sat at the table on the deck and read . . . and watched the boat traffic. It seemed apparent that one watercraft was running shuttle from Port Orchard to the Bremerton ferry landing. It was a half-hour round trip from dockside to dockside. We should have brought along some binoculars, but even without them I thought I knew about where the boat landed in Port Orchard.

Peg drank her coffee and finished dressing after her shower. I suggested that we might want to try out a harbor boat trip to Bremerton and back.

We drove to downtown Port Orchard (which took about a minute and a half) and took the right turn towards to waterfront . . . and passed Amy's On The Bay, an open restaurant. Things were beginning to fall into place. We followed the parking lot around and there was the walkway to the boat shuttle. We parked and looked around. The first thing we saw was a hot dog cart. Rick was hawking burgers, sausage, and franks from Snoop's Dog Pound.
We always like to help entrepreneurs. The hot dog was boiled instead of grilled, but Peg still enjoyed it. Rick had sauerkraut, onions, and all kinds of sauces and mustards to go along with his hot dogs. I thought about getting one for me, but I was still full of biscuits and gravy.

The portable food gave Peg the chance to walk around and check out the ferry schedule, which was every half an hour on the hour and half . . . just like I had surmised. The charge is a very reasonable $2 each way ("exact change, please"). The boat was away and we had things to do, so we tucked away the information . . . if not for this trip, then the next.
We walked along the flower bordered sidewalk and I spotted a crane standing on a float underneath a wooden walkway from a dock. I thought he was perhaps just sunning himself and then he quickly bobbed his head down. His beak broke the surface of the water and he pulled it back with a whole fish held tightly cross ways. With a couple of head jerks he got the fish aimed down his throat and it was gone. Very neatly done. It was uncommon to look around Port Orchard for very long and not see cranes.

There was a Chris Craft Rendezvous going on during our weekend in town. The Rendezvous is held annually on the second weekend in July at the Port Orchard Marina. Up to 120 boats typically attend. The purpose of the rendezvous is to provide an opportunity for Chris Craft owners and their families to share the pride and enjoyment of the boats they love. So, there were more people than normal, but even at that there was never a crowd anywhere.
Almost every other step Peg would make me stop and take a photograph of various flowers. She really liked the poppies and the way the sun played with the colors and shadows. I finally convinced her to take a ride to see some of the other sites I had seen earlier that day.

We drove west and passed the Lighthouse Restaurant & Lounge. Later our friend Jan mentioned that the Lighthouse has a great Sunday buffet. I think that may have been in the past. When I drove by it that morning I didn't even notice it. I was looking for full parking lots and traffic. The marinas were full and the only lines of people were at the KeyBank ATM.

I parked our car and we both went inside to see what it looked like and to peek at the menu. The decor was nice and the had a great deal of a 3 Course Dinner. It is only available Sunday - Thursday from 3:00 - 6:00 pm. The price? Just $15.95! We scored big time. No reservations where needed. My suggestion to Peg was that we come back to the Lighthouse for dinner at 5:30 and then go to the Beach Side for open mic at 6:30. She liked the plan.
I drove Peg to the closed BBQ Restaurant and beautiful creek and we turned around and headed back to the waterfront park.

We came back to the park because Peg wanted another couple of photographs of the poppies.

While we were at the park I pointed out the Hideaway Cafe just across from the parking lot, tucked in behind the antique mall. and actually just across the street from the burnt out restaurant.

A few things had changed in the short time we had been away. The city lined up three dumpsters for pick up. Unfortunately, they formed a wall between the street and Rick's Snoop Dog food cart. A wall of garbage containers is not my idea of a backdrop for an outdoor snack. While we talked to each other about the dumpsters we looked up the hill and saw what we guessed was a Bed & Breakfast with a covered walk around porch.
We drove up and around the hill to find the Cedar Cove Inn. The home was originally built in 1909 and has been restored and improved by the current owners.

The inn overlooks Port Orchard Bay, Sinclair Inlet and the Olympic Mountains. Two of the rooms on the second floor have 180 degree views. All of the rooms have excellent garden views as well. The grounds are as well kept as the house. Owners/innkeepers Gil and Kathy gave us a tour. I think Peg has already picked the room we'll stay in on our next trip to Port Orchard.

The main floor at the Cedar Cove Inn has sitting rooms, a grand piano and a dining room featuring a large table for breakfast and writing. Outside there is a covered pit complete with fireplace and brick tiered sitting as well as more comfortable chairs. It looks like a great place to sip a Corona on a summer evening.
We said farewells to Gil and Kathy and headed back to the cabin. The cabin is nowhere as grand and beautiful as the Cedar Cove Inn, but it is hard to beat the view with the harbor just a few feet below us. The longer we stayed the more we loved the view from the cabin.

We had plenty of time to read, nap, and relax before dinner. We ambled to the car at 5:15 and arrived with minutes to spare at the Lighthouse Restaurant. Our server was Martha. We ordered an appetizer of Dungeness Crab Cakes (Frizzled Onion, Hand Crafted Sauces), which were excellent. Our only problem with the crab cakes as well as the crab cake at Brix, was that the crab was finely chopped. The signature Dungeness crab cake at Tom Douglas's Dahlia Lounge in Seattle has pieces of claw meat you can see and taste. Of course they cost more.

The crab cake at Brix came according to the menu with baby bok choy, but both Peg and I recall it as caramelized onion. The crab cakes (two were served) came with coated and fried shoestring onions. Those were excellent as well. On the plate was a mixture of stone ground mustard and perhaps creme fraiche. Very nice.
Peg had the gumbo (no rice) and I had a salad. We shared. For dinner Peg chose the troll caught salmon filet with lemon beurre blanc. I had the (crispy) extra small local oysters. Peg's salmon was excellent. I was worried about my oysters. They were deep fried and could have easily been overcooked, but they weren't. Inside they were all soft and flavorful. Both the cocktail sauce and tarter sauce were perfect. Although the salmon and the oysters were the entrees, both Peg and I really enjoyed the yellow squash and zucchini almost as much. The rice pilaf was just as good. With the toothy bread and everything else the meals were excellent and well worth the visit and the price.

Peg passed on wine with dinner, since we didn't know how many beers we might consumer at the open mic. We didn't skip dessert, however, which was included in the $15.95. Peg had a brownie with vanilla ice cream and I had the amaretto bread pudding. Peg's brownie was good, but not in the same league as the chocolate torte from the night before. My amaretto bread pudding was pounding on the door of the league. I think if the amaretto had been cooked into the bread pudding instead of just being in the sauce, it would have knocked down the doors. Regardless, it was really, really good.
Our timing was right on, but the timing was off just a bit at Beach Side. As we drove up and parked we could see someone under the canopy talking on the microphone. I have no idea what he was saying. We went into the bar area and sat down . . . and then pulled the shade down to kill the afternoon/early evening light. The mic guy also came in the room and said a few more things . . . again, I had no idea what he said . . . or why.

At some audio controls sat an African-American man with a wide headband and long braids. Sitting in a chair and quietly playing the guitar was a second African-American with one of those knit caps that dreadlocks can be crammed under. He played for a while and then the first man began playing some recorded reggae, while the second man began playing a game of pool by himself as he danced around the table. My boredom threshold was almost within reach when a group of people came in and took a table next to us. I think this must be a local FandFers club. They were friendly and inclusive. The woman pulled her shade up and the other people brought a couple of extra chairs to their table.

In just a few minutes Peg was talking to the woman and we all introduced ourselves around and soon John from the table was joining Clive, the first African-American man on the stage. John took along lyrics and the mic and sang Otis Reding's Sitting on the Dock of the Bay to the accompaniment of John on guitar. They did a nice job. The song is a favorite of mine. I have a collectible presentation case with an autographed 45 by Otis himself that once hung on the walls of the Las Vegas Hard Rock Cafe.
Peg only had one beer and I had a Sprite. We enjoyed talking to the people, but it looked like no one else was going to show up soon, so we called it an evening.

Back at the cabin we read in the living room until it cooled down a little bit and then we both went and sat on the deck.

First we saw a family (mother, father, and three goslings) of Canada Geese swim by and then about forty of their closest relatives came by to visit them. Soon, our neighbor was throwing bread to them all in the growing shadows. The geese were expecting a handout. Soon seagulls were inviting themselves to dinner as well. The young family did well. The father (very large) would attack any goose that intruded on their dining area. He would nip at their tail feathers and hold on until the intruders left bread and dignity behind.

Once the bread was all gone, the fifty or sixty birds departed and we waited for First Call and then Taps to drift across the water. That let us know it was bed time.
Monday morning came and I was back on my regular sleeping schedule. I arose, checked emails, and then went out looking for breakfast. Nothing was open in downtown Port Orchard, so I drove west. I passed Gorst and The Mattress Ranch, and then found myself in the flow of Bremerton traffic. I was swept along and almost into the naval shipyards. Then I was in downtown Bremerton and in the boarding lane for the ferry that I had been viewing for two days. I made an illegal turn and then drove past a coffee shop where I had eaten at before, but I knew wouldn't have anything for me for breakfast. Then I was heading west again. The only breakfast place I found open was the Family Pancake House. There was a Family Pancake House between Port Orchard and the freeway and I thought that I should eat there if I was reduced to dining at the small local chain Pancake House. There are five or six Family Pancake Houses in Washington State. They are okay, but I prefer mom and pop, local food.

I drove all the way back from Bremerton to downtown Port Orchard and saw that the bar MoonDogToo was now open. I started to slow down and park, but there was a car on my tail, so I continued on and stopped at the Port Orchard Family Pancake House instead. I reached into the back seat and discovered that I had left my camera in the cabin. Disgusted with myself I thought, "That must be a sign." I started the car and drove back to the cabin and retrieved my camera and continued on to MoonDogToo.
Somehow I always knew that my ace in the hole was MoonDogToo. Darrell welcomed me and sat me down. I was a little too early for breakfast he said, but Darrell told me to look over the menu and order. I might have to wait fifteen minutes, but I was hungry. I thought long and hard about ordering the chicken-fried steak, but finally ordered the fresh backed biscuits and peppery sausage gravy. My only problem was that MoonDogToo has home fries instead of hashbrowns. I ordered bacon and a slice of ham.

The home fries were served nice and crispy just like a like along with a bunch of onions cut up in them. They were perfect for home fries. The biscuits were crispier that I like, but they were just for the sausage gravy. The crispy bacon was almost black and the ham was similar. Ah, yes . . . good mid-west cookery. I loved it all. I left most of the chunky potatoes, which I probably wouldn't have done with hashbrowns, but everything else was gone.
I hurried back to the cabin and found Peg up and ready for breakfast. "I've got just the place for you," I said. I knew she would love the biscuits. As we drove to MoonDogToo I told Peg that they have live music on the weekends. The have a courtyard beside the bar. There is outdoor seating and the band has a raised stage. From what I understand the place is really crowded on Friday and Saturday nights. A sign on the wall offers free cab service in South Kitsap County between 10:00 pm and 2:00 am. After two you pay your own cab fare. Maybe now we know why all the Bail Bond offices in downtown Port Orchard.

Peg had to investigate the unusual, round safe by the front door. The foot-thick safe door protected a collection of backpacks and what are probably items found on mornings following live music nights.
Peg made my day by ordering the chicken fried steak. While she ate I went outside to the courtyard, which was being cleaned up after the weekend frenzy. There is a mural of the Port Orchard Harbor, which was painted over sixty years ago. The bar has had it restored. The owner of the building next door had his wall painted above the painting unfortunately and some of the white paint has leeched down onto the mural. Oh, well, such is the way with art.

Peg loved the chicken fried steak. She loved it, but couldn't eat it all. I loved her for that and finished it off for her. She loved the meal.

Peg chatted with Darrell who had given us some information about the bar and Kitsap County. He had the only copy of a local paper that I had seen. Darrell asked where we were from and we told him Tacoma. He commutes everyday from Fircrest. It's a small world.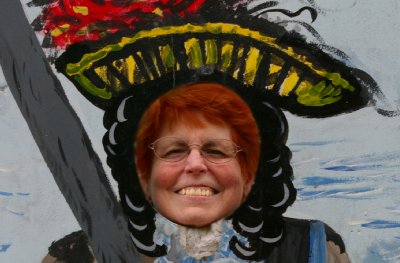 We left the bar and went once more back to the waterfront park to check on Peg's poppies. Surprise, three blossoms greeted us. I took more pictures (Port Orchard Flower Gallery). Peg has an art project in mind with the focus being the poppies she loved.

Looking over at the burnt out restaurant, which is being remodeled I noticed that there are murals on both sides of the empty lot between the restaurant the and the next building. I thought we should investigate. There was kind of a theme . . . perhaps Around the World in Eight Days . . . or perhaps just Jules Verne or whales and sunken pirate treasure. Amid the fire damaged debris on the ground stood a pirate with his face cut out for taking pictures.

I stacked up a block wood and a brick for Peg to stand on, so she could get her face into the cut out area. She still had to stretch and I think the plywood began cutting into her throat (my little cut-throat pirate). This photograph is now one of my favorites of Peg.

We were sorry to leave Port Orchard. We had such a great time. We talked about it all the way back to Tacoma. I think we'll be going back. We first fell in love with the view from the cabin and then we fell in love with the town. Port Orchard, what a great place to visit!