Seattle had been calling to us for quite some time. Now two granddaughters are living there and it's play production season. Add in a Kentucky client visiting the Pacific Northwest and we knew we had to get our Seattle fix.

We had wanted to try out Mildred's Bed and Breakfast for months, but the stars were never aligned for us. Once we connected with Don Gerard of Land Shark Shredding for dinner, we booked a room for two nights at Mildred's . . . which we expanded first to three days and then finally four days. We had a ball and filled our empty hours with reading, dining, visiting, and museums. The only drawbacks were traffic, parking, bike riders, and pedestrians who either blindly step in front of your moving vehicle or who saunter over the cross walks in their own good time.

We enjoyed the B and B. The Victorian home was filled with antique furniture and artistic images of the Bed and Breakfast itself on the wallpaper walls.
In weather just a shade warmer, the home would be a great place to just sit on the front porch, it's a gracious Victorian home. I'll probably never do that, but others might really enjoy it; nonetheless, it was beautiful in the afternoon sun and very welcoming.

Mildred's is located on Capitol Hill, our favorite neighborhood, just across from the backside of the Seattle Asian Museum and Volunteer Park. The view is ever changing.

The building lot is mostly taken up with the house, but there is a small fountain and a one-hole putting green, which I first thought was algae on a lovely pond. There isn't any off-street parking provided, but we never had to walk more than fifty feet from parking to the B & B; however we may have parked illegally twice. We found this out as we were leaving, but no harm, no foul, no ticket.
After checking in and the owner Melodee's son Jay took our bags upstairs to our room, Peg and I layed down on the bed to read. There were half a dozen books in the room to choose from. I chose a five hundred + page adventure story, Desert God by Wilbur Smith.

Our dinner reservations were at 5 p.m. We found a place to park and then went shopping at a vintage store where I had purchased a very collectible Selro Sellini silver necklace for Peg about a year ago.

"No Parking on Pike", a local thrift and curiousity shop is an interesting place, on Pike no less. Peg tickled the old boar, as we looked around at the interesting memorabilia, jewelry, whatnots, and art.
Peg got a kick out of the stuffed bats. The large ones sell for $35, the medium sized ones for $25 and the small ones go for $15. Our area is alive at night with bats. They keep the insect population down; therefore, we love them. Take that, you annoying mosquitos!

The taxidermy bats are very fragile, so we passed on a purchase but I had to think twice about getting a bat skull. My oldest son would really like one of those. He's like me . . . basically eight years old.

Our wants are simple . . . but strange. Note: the cute bat is wearing a Santa Claus hat.
Don Gerard, the owner of Land Shark Shredding in Bowling Green, Kentucky, visited the Puget Sound area with his wife, Maura. We've worked on their internet marketing for the last year of so, but had never met them. Don and I have talked often over the phone and via email and I was thrilled when I heard they were coming to Seattle. It's always nice to put a face and personality with a voice . . . especially with a kind of southern accent.

Don and Maura joined us a little after five at The Manhattan. The wives drank wine, while Don had a Moscow Mule. I had a Shirley Temple with lots of cherries. Don looked at my glass and said, "A man has be pretty sure of his masculinity to drink a Shirley Temple." We all got a good laugh out that. I like the taste, and it's a good ice breaker. Then I had a second one.
The Manhattan was a perfectly located restaurant for us from the B&B. We just headed south on 15th Ave E, turned right on E. Madison and turned right almost immediately onto 12th.

We had too many appetizers and so both couples pretty much ended up sharing the main dishes. I really enjoyed my beet salad, the fried green tomatoes, mac and salmon, and the shrimp and grits. We finished up about eight in the evening. The room was almost completely filled by the time we left. The Gerards were sailing to Victoria the next morning at 5:30.

Each Manhattan waiter that we had over our stay in Seattle was helpful and friendly, always ready to answer a question or help with directions.
The next day we were back at the Manhattan for lunch. We had a very tasty corn chowder and an outstanding navy bean soup. I enjoyed the Pulled Pork Sandwich and my friend Denny had the Po Boy. Both came with fries that were fried in duck fat.

My only complaint, was that when I asked for ketchup I was brought one metal condiment bowl of about a one tablespoon of ketchup . . . little larger than a bottle cap. That's enough for maybe one fry. I know places like that don't want to bring a whole bottle, when in reality I could have used two dozen condiment bowls but I made do. Or perhaps, we could have played checkers with half the bowls filled with ketchup and half with Dijon.
I love this photograph of Jayasri Ghosh, PhD - Head of School at Bright Water School and her husband and my buddy Dennis Flannigan (civil rights activist, quasi-politician and holder of an honorary doctoral degree from University of Puget Sound). Jayasri is so relaxed and happy, while Denny can hardly contain himself. He looks as if he has a quip on his tongue that is just bursting to get out.

I met Jayasri when she was a member of the Rotary Club of Tacoma #8. Our friends Mike Mowat and Janet Runbeck, and Donn and Debbie Irwin joined in an auction bid for a home-cooked Indian meal at her place. Now, I think I've known Denny almost thirty years. We met when he helped me out during my second term as president of the Tacoma-Pierce County Christmas House. We share a love of good food, laughter and music.

Jayasri and Denny were married at the end of July this year. What a great match. Lunch went by too quickly.
I had a lunch appointment the next day at the Manhattan also. I dropped off Peg at the Seattle Art Museum where she wanted to see the Intimate Impressionism exhibit, and drove back up to Capitol Hill. I arrived at 11:50 instead of 11:30, which I knew was the kiss of death. At 11:30 I would have had a chance finding a parking space; at 11:50 my chances were next to nada. As I circled the block I saw my buddy Al standing by his car. I honked and waved, but neither had any effect on him. I circled the block and, not only was he no longer there, but someone had grabbed his parking space. I couldn't even find a space to park illegally. I circled one more time and then drove over to Broadway and headed north until I found a parking space outside Julia's on Broadway. I was the only customer there. Obviously, this was where I should have met Al.
I took a seat and pulled out my phone. Al had my cell number, but I didn't have his. I left a message on his home phone to join me.

At Julia's, I had the all-day breakfast special: two pumpkin-buttermilk pancakes, two eggs, and two sausage patties for $13. I ordered a side of potatoes, too. When they were all delivered I realized I hate their "grilled" potatoes. After two bites Al called. I tried to get him to join me, but he didn't want the hassle of driving from West Seattle to Capitol Hill twice in the same day. I understood. I had already turned down a video on-location scouting job for that morning just south of West Seattle. I didn't want to drive it once.

I said goodbye to Al after promising to make him a destination stop in the near future to see some remodeling projects he's completed. Then, I tore into my excellent (minus the potatoes) pancakes. Two new patrons were ushered into a table close to mine and one spoke up, "How's the special?" I gave them the thunb's up and they smiled back. The people in Seattle are so friendly.
After breakfast I went back to my car, but noticed the shop next to Julia's was a thrift store. In packing on Wednesday I hadn't packed enough shirts and since I could see a rack of men's shirts, I went inside. The very first shirt I saw in my size was a Cubavera, my favorite shirts, which generally run over $50 each. Charlie Sheen made them popular when he wore them in Two and a Half Men a terrible show but great shirts. I grabbed the dark blue 3XL for $6.50 and two other Izods for a total of $18.50.

I also found a Christmas present for my cousin Lavinia Hart. She heads the drama department at Wayne State. We'll be seeing Lindy and her husband James, when they journey from Detroit back to the Pacific Northwest to see daughter Jaime Moyer (who has appeared in Parks and Recreation, Two Broke Girls, and KC Undercover) perform away from her home at Second City Hollywood, perform at Center Stage in Portland in Twisted Dickens. The gift book is Theater in America - 200 Years of Plays, Players, and Productions. It's fabulous. It must have belonged to a drama student because I don't think it had ever been opened. It looked brand new and was probably printed in the late 70s.
I left the thrift center and returned to my car. As I drove away, a parked car pulled right out in front of me. I slammed on my brakes and hit the horn. The driver stopped half-in and half-out of his parking space, with a surprised look on his face as he saw me. He then pulled completely out and drove away, only to hit the car in front of him. Luckily I had dodged a bullet, or rather a Camry. This image was shot right after the Chevy in front of him drove off down the street and parked illegally where the two drivers could share IDs.

Both driving and parking is a problem in Seattle. A couple of hours later I went back downtown to pick up Peg from the Seattle Art Museum. I parked right outside the museum but ducked inside for change when my card didn't work in the parking meter. I returned to find an enforcement officer writing me a ticket, I carefully explained that the meter didn't work and he replied, "No parking after three." I didn't get the memo. On a positive note, Peg loved the exhibit.
INTIMATE IMPRESSIONISM FROM THE NATIONAL GALLERY OF ART - OCT 1 2015 – JAN 10 2016
This collection is comprised of extraordinary paintings, considered to be the jewels of one of the finest collections of French Impressionism in the world.

This exhibition features 68 intimately scaled paintings by Impressionist and Post-Impressionist masters, including Edouard Manet, Auguste Renoir, Claude Monet, Eugene Boudin, Paul Cezanne, Edgar Degas, Camille Pissarro, Pierre Bonnard, Edouard Vuillard, Paul Gauguin, and Vincent van Gogh, among others. These works, which are prominently presented in the East Building of the National Gallery, have long been treasured by the museum's visitors and prized by art historians.

Peg spent four hours sitting and sharing the wonder of this collection. I think she could go there every day for a month and would be happy. You never get enough of great art. Her favorite pieces were . . . well, I think it depends on which one she's enjoying at the moment.
Peg and I returned to Julia's for dinner with our granddaughter, Talia, who recently moved to Capitol Hill for a new job. She still shares a room in Bellingham and returns there each weekend. I think this is only because she has a parking space there.

We caught up on family news. Talia returned to Tacoma two weeks before to celebrate her twin sisters's birthdays. They turned twenty-one. They attend the University of Washington during the week, but commute from their home in University Place. While Talia, her sisters, and her parents celebrated one birthday, Peg and I were in Edgewood celebrating Peg's birthday along with her sister Michelle's birthday.
While Talia and Peg enjoyed a glass of pinot gris, I sipped a Shirley Temple and munched on cherries.

I ordered the pork ribs for dinner knowing nothing about them. The women sampled and loved them.

My first piece had a good sized junk of meat on it, but it was tough and dry. I was irritated and sorry for my taste buds. The rest of the ribs, however were tender and flavorful. The sauce was tangy and sweet. I ate too many French fries. I should have passed on them and helped myself to the women's shared nachos.
The pulled pork nachos were good. The hot peppers were sliced large enough that Peg could easily avoid them. They both enjoyed the black beans. I would have ordered lots of sour cream and guacamole along with salsa. I think they only served the nachos with bottled sauce, but that's okay. I grew up on shredded beef and pulled pork tacos with dashes of heat. If Julia's had offered street tacos I would have had my hand in the air for seconds. Talia and Peg loved the nachos, so I guess it was a great choice.

It had been a long day and Talia needed a power nap before driving back to Bellingham. We hugged around and we all left.
The breakfast table at Mildred's is always set. She offers hot oatmeal every morning. I declined every morning, but enjoyed banana bread, pound cake, and cinnamon rolls. Those weren't all served each day, but rather one a day depending upon what owner Melodee baked.

One morning she made "stroopwafels" - crispy, little, Swedish waffle sandwich cookies with caramel in-between. As Melodee made the cookies I drank coffee and talked. I would excuse myself and retreat upstairs to wake Peg up and then would return with her for her breakfast of yogurt, fresh fruit, and nuts.

I loved the mornings when other guests would join me at the breakfast table. Not everyone does . . . come down for breakfast that is.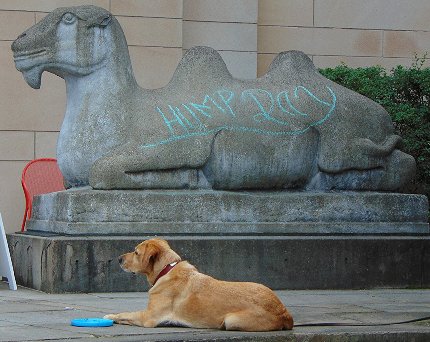 Saturday was filled with activities. First on our agenda was our trip to the Seattle Asian Museum across the street in Volunteer Park. We haven't been there in years, but when you're as close as we were with the B&B across the street, how could we not got there?

Two massive stone camels face each other on the top steps guarding the museum. This Saturday a dog joined one of the camels. I loved the pose of the dog with the camel. Unfortunately, someone wrote Hump Day with chalk on the one camel, but at least they didn't chalk the dog.

Most people just walk them.